Alan Watts, Philosopher, Writer, Counter Culture Spiritual Spokesperson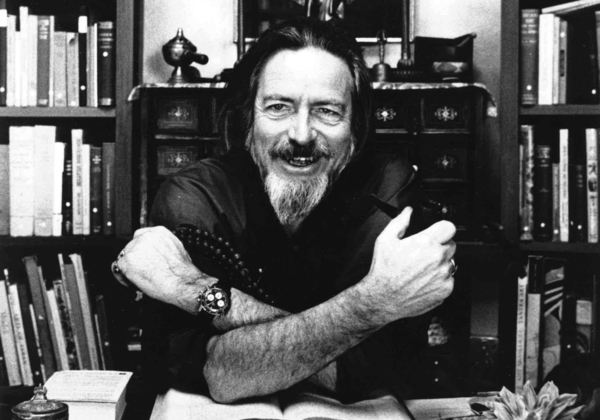 BERKELEY e-PLAQUE
Alan Watts, Philosopher, Writer, Counter Culture Spiritual Spokesperson
(1915 – 1973)
"My name, "Alan" means 'harmony' in Celtic and 'hound' in Anglo-Saxon. Accordingly, my existence is, and has been, a paradox, or better, a coincidence of opposites."
Alan Watts introduced Buddhist concepts to the Bay Area "beatniks" of the 1950s and hippies of the 1960s through his KPFA Berkeley radio series, "Way Beyond the West," and a KQED television program, "Eastern Wisdom and Modern Life." He appears in Phillip K. Dick's novel, The Transmigration of Timothy Archer as Edgar Barefoot, a charming British mystic who shops at the Berkeley Co-op on University Avenue and is visited by the book's narrator, Angel Archer, where they reflect on the lives of her deceased relatives. (Dick created Angel as a response to his friend Ursula Kroeger LeGuin's challenge to create a female protagonist.)
In his autobiography, My Own Way, Watts says he acquired an "inner compass" as a child that guided him "to the East through the West." The journey began in rural England in a home filled with exotica that his mother's Christian missionary relatives brought back from the East and where he listened to his father read Kipling's Jungle Book. 'Kim', he says, gave him more sympathy for Buddhism than the Anglican Christianity into which he was born. His adventuresome life's journey as a spiritual spokesperson for many outside the religious mainstream eventually led him to the California coast where he lived on a houseboat in Sausalito and in a cabin on the southwest flank of Mt. Tamalpais.
Alan Watts' life as a spiritual seeker began during his teens in the London home of theosophists Christian Humphreys and his wife, which also served as the Buddhist Lodge. Watts recalls their flat as "a hide-away with a bright fire, Persian rugs, incense, golden Buddhas and magical library of books".  By age 17 Watts had begun his prolific writing career with articles for the Buddhist Lodge's journal. His spiritual path continued in New York where he studied and lectured on Zen in bookstores and cafes during his early 20s. At 30, in an attempt to work out a blend of Christianity and Asian philosophy, he was ordained as an Episcopal priest, but by 38 left the Christian ministry.
Though he was a relative outsider in academia he taught for several years at the American Academy of Asian Studies, was a Professor of Comparative Philosophy at the California Institute of Integral Studies (CIIS), had a fellowship at Harvard University, and was a scholar at San Jose State University.
Watts' range of interests, covered in his numerous writings, included all the arts, cuisine, education, the law, architecture, and sexuality. He was married three times and had seven children. Among his large circle of friends are such luminaries as the writer/philosopher Aldous Huxley, poet Kenneth Rexroth, composer John Cage, and philosopher Joseph Campbell.
Alan Watts died in his sleep at age 58 in his cabin on the slopes of Mt. Tamalpais.
Contributed by Diana Kehlmann and Shoshone Odess, 2017