Alfred and Theodora Kroeber, Anthropologists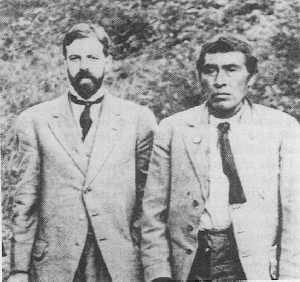 BERKELEY e-PLAQUE
A.L. Kroeber, Anthropologist
(1876–1960)
Theodora Kroeber, Anthropologist
(1897–1979)
Bernard Maybeck, Architect, 1907
Alfred and Theodora Kroeber Residence, "Semper Virens":
1325 Arch Street
U.C. Berkeley's Kroeber Hall is named after cultural anthropologist A. L. Kroeber, who founded the anthropology department of the University, where he taught from 1901 to 1946. He also directed the University's Anthropology Museum and, with backing from Phoebe Hearst, helped build its impressive collection of artifacts.
Kroeber took an early interest in Native American tribal culture. His writings were broad, but he is popularly known for the work he did with a Yahi Indian who was found starving and homeless near Oroville in 1911. Thought to be the last living member of his tribe, this derelict survivor aroused a keen interest in Kroeber, who named him "Ishi," meaning "man" in the Yana language. When Ishi learned his new name, he stopped using the word in respect to the Yahi custom of not speaking your name to another.
The two men formed a close personal bond over a five-year working relationship during which Kroeber's wife, Henrietta, died of TB. Ishi's own history of suffering and grief nourished their mutual empathy, and Ishi himself died of TB in 1916 at age 54. In 1923 Kroeber married fellow anthropologist Theodora Krakow Brown. They had two children together: Karl, a professor of English, and writer Ursula LeGuin. Together with Theodora's sons from her previous marriage, the family lived in a prominently sited "Swiss Chalet" style Maybeck house on Arch Street.
It was left for Theodora to undertake the writing of Ishi's story. She reflected that Kroeber "had lived too much of it, and too much of it was the stuff of human agony" to write it himself. Ishi in Two Worlds was published in 1961 and sold over a million copies.
Contributed by Robert Kehlmann, 2012