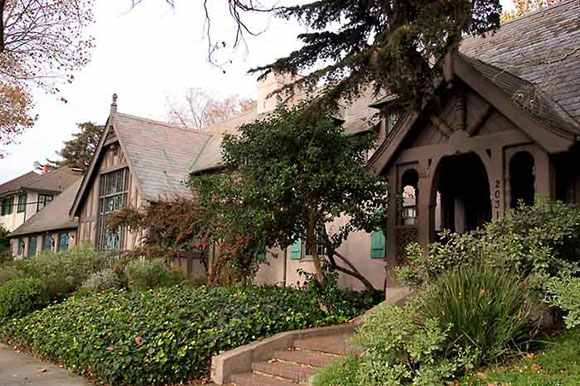 BERKELEY e-PLAQUE
CITY OF BERKELEY LANDMARK
designated in 1977
Listed on the National Register of Historic Places
Berkeley Day Nursery
Walter H. Ratcliff, Jr., Architect, 1927
2031 Sixth Street
The Berkeley Day Nursery, founded in 1908 by a group of prominent Berkeley women, was one of the earliest facilities in California to provide day care for children of low-income working mothers. Members of the Board of Directors included such community activists as Jessie Katherine Marsh Freeman [Mrs. Allen G. Freeman], Mary Kimberly "Molly" Lawrence [Mrs. E.O. Lawrence], and Gertrude Dowsett Strong [Mrs. Edward W. Strong].
Having outgrown its earlier facility a block away, the Berkeley Day Nursery moved into the building designed for them at no cost by Walter H. Ratcliff, Jr. in 1927. While the building's exterior evoked the image of a hand-crafted English cottage, its interior—with exposed structural frame and unpainted redwood finishes—exemplified the Bay Area Tradition. Banked folding doors could be opened or closed to reconfigure rooms as the program needs changed over the course of a day.
Unable to meet stricter state personnel and program requirements for day care facilities, the Berkeley Day Nursery closed in 1965 (the corporation dissolved in 1969). The building continued as a day care facility—the West Berkeley Children's Center—until 1976, when it was converted to office use by the Berkeley Unified School District. Since the early 1980s the building has functioned as a community health clinic.
Contributed by Mary Hardy, 2012