Bill Clinton and Hillary Rodham, future President and First Lady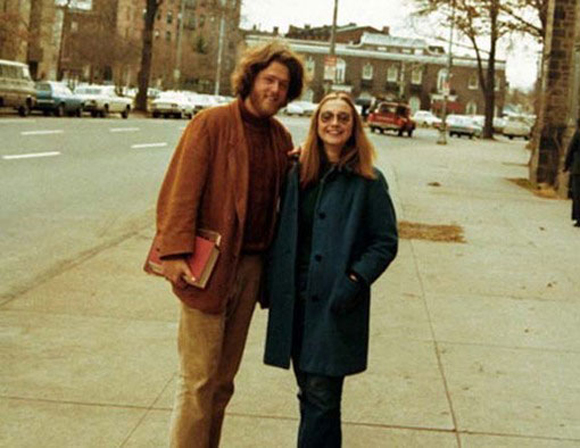 BERKELEY e-PLAQUE
Bill Clinton and Hillary Rodham in Berkeley
(1971)
1971 Summer Residence:
2667-71 Derby Street*
The lifelong relationship of Bill Clinton and Hillary Rodham blossomed in Berkeley in the summer of 1971. During a summer break from Yale Law School, they shared the apartment of Hillary's mother's half-sister, Adeline Rosenberg. Hillary clerked for Oakland attorney Mal Burnstein while Bill hung out, reading and exploring the area.
Hillary remembers her aunt's residence as "a small apartment near a big park not far from the University of California at Berkeley campus where the Free Speech Movement started in 1964." Clinton, who arrived after Hillary, recalls her greeting him "with a peach pie—my favorite—that she'd baked herself, which didn't last long." They were among the regulars who walked by Willard Park (called "Ho Chi Min Park" by anti-war activists) and People's Park, browsed Moe's, Shakespeare & Co., and Cody's bookstores, and chatted over coffee at the "Med" Café.
1971 was a time of optimism and turbulence in America. The voting age was lowered to 18, Apollo 14 landed on the moon, and the Rolling Stones, Bob Dylan, the Grateful Dead, and Joan Baez (Bill and Hillary drove to Stanford to hear one of her concerts) were west coast favorites. Bill remained loyal to Elvis. The Vietnam War was raging, and they backed anti-war candidate George McGovern in his presidential bid against Richard Nixon. Earlier that year Charles Manson had been convicted, and, about the time of their arrival in Berkeley, the New York Times began publishing The Pentagon Papers, leaked by local resident Daniel Ellsberg. On August 21, two days after the couple celebrated Clinton's 25th birthday, Black Panther George Jackson was shot dead during a San Quentin escape attempt. They no doubt followed these events in the local media, probably including Berkeley's listener-supported KPFA radio.
Contributed by Robert Kehlmann, 2012
*This address was reported in the New York Sun, November 26, 2007. We have not been able to independently verify it.