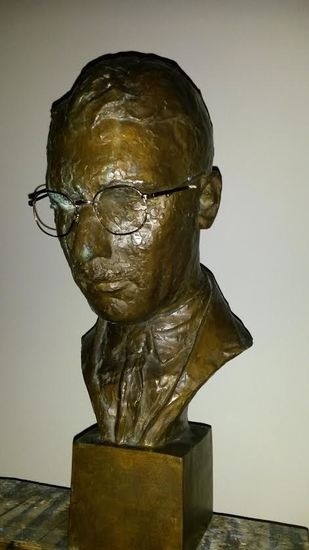 BERKELEY e-PLAQUE
C.S.Forester - Writer
(1899-1966)
Forester Residence:
1570 Hawthorne Terrace
"I recommend Hornblower to everyone literate I know."
Ernest Hemingway
Forester was born Cecil Louis Troughton Smith. He was raised by his mother in England after an early childhood in Cairo. He studied medicine for a time, but decided he wanted to be a writer and began his literary career in 1921.
C.S. Forester is best known for his Horatio Hornblower series, 12 novels set during the Napoleonic Wars that track the adventures and the growth of a young Englishman in the Royal Navy.  By 1937, he was well on the way to success with the publication of his first novel in the series. Another of his best-known works, The African Queen, was one of the many of his works that inspired screenplays—for both movies on the big screen and for television—that included some based on the Hornblower novels. Forester also wrote plays and children's books, and, early in his career, he made contributions to the emerging genre of crime fiction. His masterpiece of suspense, Payment Deferred, foreshadowed the works of later practitioners of mystery fiction. Five biographies, some histories, and an early autobiography were also part of his varied output.
By 1940, he'd convinced the British government to let him move to the United States to write propaganda encouraging Americans to enter the war on England's side.  His work in this area was highly valued by professionals in the field. During this time he met Roald Dahl and encouraged him to begin writing about his experiences as an RAF fighter pilot. Forester eventually came to Berkeley, which was his official home until his death, following a disabling stroke, in Fullerton, California. Forester, who was married twice, both times in secret, observed that "Novel writing wrecks homes." He had two sons by his first marriage.
His Berkeley circle grew to include others who were successful academics and writers, such as George R. Stewart. Stewart and Forester became good friends, often working and relaxing together with their families.  They were also members of The Armchair Strategists, a group of scholars who examined the events of the week during World War II and suggested strategies based on their work.  The group earned a small immortality when LIFE Magazine published a photograph of them meeting at the Stewart home with Forester prominent. He wrote more than 25 books during his time in Berkeley, including several of the Hornblower novels and the book that would be filmed as "Sink The Bismarck."
Forester died in 1966, but his work lives on in the age of space: James T. Kirk of the Starship Enterprise, who entered the world of media in Star Trek the year that Forester died, is partly modeled on Hornblower.  Forester's continuing popularity is also evidenced by a Forester Society site devoted to his works.
Contributed by Don Scott, 2016