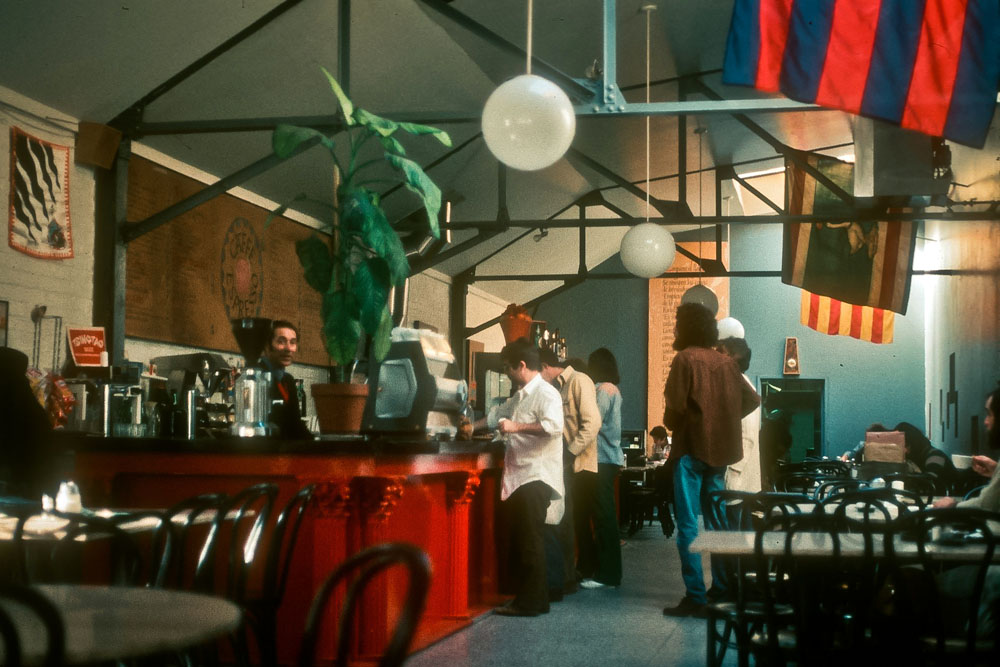 BERKELEY e-PLAQUE
Caffé Espresso
(1967–1984)
2481 Hearst Avenue
Before laptops glowed ubiquitously in cafes throughout the city, at a time when the visionary Mr. Peet was roasting coffee beans for his Vine Street shop, Berkeley's Caffé Espresso (the official name had two "f's") operated beside a small alley on Hearst Avenue on the north side of campus. One of the first espresso cafes in Berkeley, Caffé Espresso was founded by three Italian brothers: Enzo, being the eldest, was manager. He was the embodiment of what the Italians call, La Bella Figura, "the beautiful figure." It connotes a way of life that embodies grace and beauty and presents a good image in proper form. Whether behind the counter or bringing in the morning pastries, Enzo was always impeccably dressed.
The fifties-style café had a stark, cool, uncluttered Mediterranean feel: brick walls, a Spanish tile roof trim, and exposed steel girders traversing the high ceiling. When a spoon or cup fell, it echoed. The sole graphic on the exterior was a gold circular saw-toothed sign that hung out over the sidewalk. The entrance was floor to-ceiling glass set back far enough to allow for a small outdoor seating area covered by a purple and red striped awning.
A long, bright red bar with faux Roman columns running lengthwise supported the espresso machine, pastry display case, and cash register. Behind the bar was a hand-painted large menu board. Various flags and paintings decorated the white brick walls. The table tops, made of Travertine marble, were complemented by black bentwood- style chairs. Enzo's small second story office was accessed by a hanging wrought iron staircase.
Caffé Espresso was a hang-out for artists and writers creating in their notebooks and sketch pads, students reading books or writing papers, and assorted intellectuals engaging in intense discussion. Graduate seminars and classes were at times held here during the student strikes of the '70s that shut down the campus.
Contributed by Maestro Gaxiola, 2013
More information:
A Personal Commentary:
Richard Friedman, who took these pictures, writes: "Espresso was my local cafe when I worked up the hill at the Lawrence Berkeley Lab (1968–82), and I was often there for lunch, dinner, and later. It became a favorite hangout for visiting mathematicians and physicists, probably because it had a definite European artsy feel, and better coffee than the Cafe Med on Telegraph! Three brothers from Napoli ran it, first Enzo, the eldest, then Leno, the artist, and finally Rico, the youngest. When Leno ran it, he tried to make it into a real Italian restaurant and hired Michele to make real Italian pizzas ... the best in Berkeley at the time ... much better than La Val's up the street. Michele eventually became the legendary pizza chef at Chez Panisse. And he made the best manicotti anywhere. Before cell phones and laptops, it was where you went for serious conversation, and a cappuccino. I practically lived there. It also had the best graffiti in the men's room. My favorite was 'Dyslexics Untie!'  It was home and I miss it still."