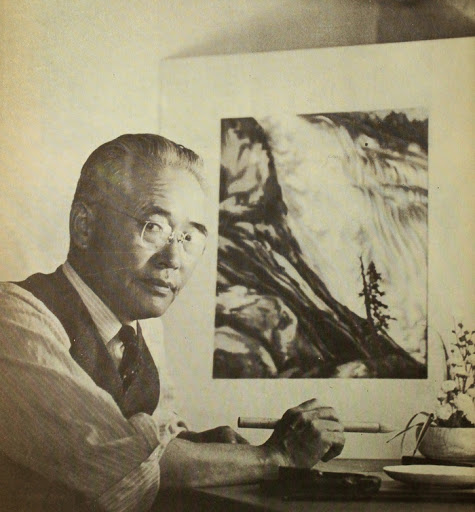 BERKELEY e-PLAQUE
Chiura Obata, Artist
(1885–1975)
The Needham-Obata Building
CITY OF BERKELEY LANDMARK
designated in 2009
Obata Studio:
2525 Telegraph Avenue
This Mission revival-style building was constructed in 1907 by W. G. Needham Real Estate & Insurance to fill the demand for structures that served commercial and housing needs in the burgeoning Telegraph Avenue corridor. The building is of special significance for its connection to prominent artist Chiura Obata, who used a portion of the ground floor for his personal art studio and for teaching classes. Obata (1885–1975) studied painting in Japan from the age of seven and, after immigrating to the United States in 1903, achieved renown for work that blended traditional Japanese technique with Western naturalism. In 1932, Obata joined the art department faculty at University of California, Berkeley.
From 1939 to 1942, the Telegraph Avenue storefront hosted Obata's painting classes, art exhibits, and ikebana lessons by Obata's wife, Haruko, a prominent teacher of this traditional Japanese art of flower arranging. Their eldest son, Kimio, managed the studio and ran an art goods store in the space as well.  After the Japanese attack on Pearl Harbor, Berkeley's Japanese American community came under increased suspicion, and a gun was fired at the Obata Studio. Four months later the Obatas, along with 1,300 other Japanese Americans, were given ten days to prepare for "evacuation" from Berkeley.  The family closed the Telegraph Avenue studio and had to sell their merchandise at a loss.
While incarcerated, Chiura Obata founded art schools, first at the temporary Tanforan Assembly Center and later, in Topaz, Utah, at one of ten remote "relocation centers" operated by the War Relocation Authority. Obata encouraged his fellow "internees" to look to nature for strength during their unjust imprisonment. Sketches and paintings made throughout Obata's wartime experience provide crucial and poignant documentation of the process that forcibly relocated and imprisoned approximately 120,000 people, two-thirds of whom were United States citizens.
The Obatas returned to Berkeley in 1945, and Chiura resumed teaching at the University; they were not able to reopen the Telegraph Avenue studio and store.
Contributed by Donna Graves, 2012