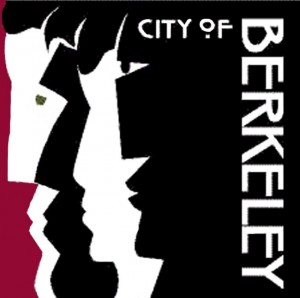 BERKELEY e-PLAQUE
City Logo
Old City Hall:
2150–2178 Martin Luther King Jr. Way
In 1971, the Berkeley City Council appointed a committee to find a replacement for the drab photo mural, flanked by images of Presidents Washington and Lincoln, at the front of its chambers in Old City Hall. That same year, an exhibition of work by New York artist Romare Bearden (1911–1988), "The Prevalence of Ritual," traveled from New York's Museum of Modern Art to the UC Berkeley Art Museum. The show explored experiences common to all cultures while focusing on the rich physical and spiritual experience of inner-city and rural African Americans. Collages by Bearden, who would be called "the nation's foremost collagist" in a New York Times obituary, resonated in Berkeley.
Berkeley Art Center Director Carl Worth and UC Art Museum Director Peter Selz initiated the difficult process of gaining approval of a site-specific mural by Bearden for the Council Chambers. Worth coordinated key aspects of the mural project and in 1972 escorted Romare and his wife Nanette on a 10-day tour of Berkeley. During this time Bearden continually photographed the city and conversed with its people. They explored all sections of the city, walked through the campus, visited historic buildings, attended Christian Science meetings, black and Buddhist services as wells as events like a City Council meeting, a Telegraph Ave. street concert, an Asian Youth Alliance Meeting, and a housing conference.
When in 1974 Bearden's multi-vision mural, "Berkeley-The City and Its People," was installed to critical acclaim, the artist said, "It symbolizes the past, the present, and the future possibilities of the city." Berkeley later decided to replace its logo with Bearden's compact image of racial diversity that anchors the mural's collage made of clipped photo images and painted elements. The mural is now in storage as Old City Hall awaits an earthquake retrofit.
Contributed by Robert Kehlmann, 2013