Civic Center Historic District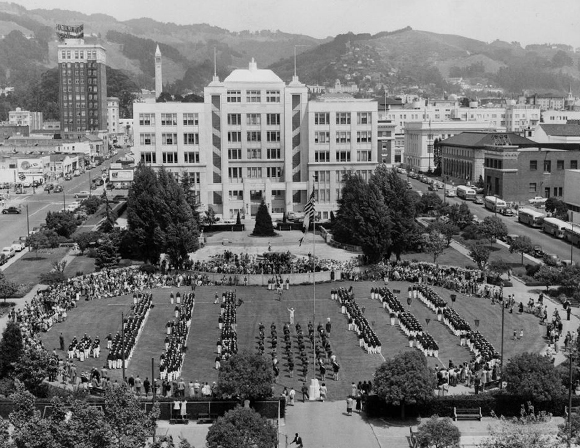 BERKELEY e-PLAQUE
CITY OF BERKELEY LANDMARK
designated in 1998
Listed on the National Register of Historic Places
CIVIC CENTER HISTORIC DISTRICT
Period of Significance, 1899–1950:
Civic Center Park
Civic Center Historic District comprises portions of a five-block area surrounding Martin Luther King Jr. Civic Center Park. "Old" City Hall (1909) and the Federal Land Bank Building (1938), the Veterans Memorial Building (1928), and the Berkeley Community Theater/Berkeley High School Campus (1939-50) form a cross axis with Civic Center Fountain (1942) at its center.
The Civic Center took almost a half-century to plan and develop. In 1899 Berkeley's Town Hall was moved from Sacramento Street and University Avenue to this location. It burned a few years later and a new city hall was constructed on the site. In 1940 voters approved a bond issue to purchase the land for the park.
This district has played an important role in the social and political history of the community. In the 1960s the Park became a site for anti-Vietnam War demonstrations and rallies, and it was informally called Provo Park, after the Dutch anarchist movement. Since its completion the park has been the heart of the city, host to art festivals, concerts, political rallies, and a weekly farmers market.
Contributed by Berkeley Historical Plaque Project, 2012