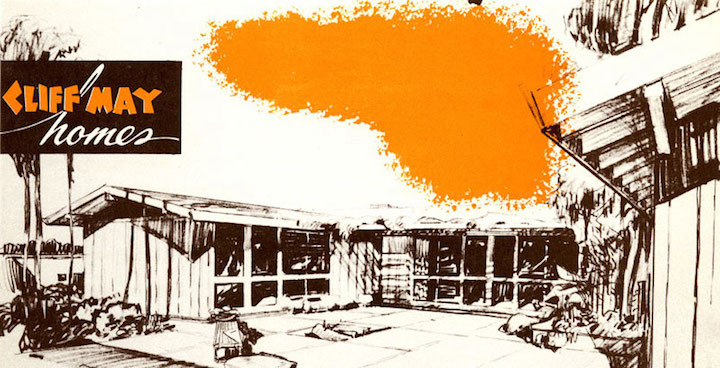 BERKELEY e-PLAQUE
Cliff May, Architect
(1909–1989)
Kenneth Boysen Residence (1925):
1291 Grizzly Peak Boulevard
In the late 1940s and early 50s the ranch house emerged as a stark design contrast to the formal, traditional houses then dominating the market. Very quickly, however, it became the symbol of suburban status quo.
Though the earliest recorded usage of the term "ranch house" appeared in the Los Angeles Times on May 5, 1935, The Gregory Farmhouse (1928) by William Wurster is commonly seen as the form's prototype. Ranch house popularity grew exponentially in the post-war 1940s and California designer and builder Cliff May quickly became synonymous with them. His Western Ranch Houses (1946) was a best-selling book and Sunset Magazine and House Beautiful featured ranch houses as the alternative to modernism.
There is one known May ranch house in Berkeley. Constructed in 1955 on Grizzly Peak Boulevard for Kenneth Boysen, Cliff May/Chris Choate Model #4212 was built on a slab foundation with posts on five-foot centers, factory-built windows, walls, and door components. May designed hundreds of custom homes and thousands of modestly priced homes such as this were built from his plans.
The absence of Cliff May houses in Berkeley makes the Boysen House all the more interesting. Its suburban, "westerner" ethos is not sympathetic to Berkeley's traditional hill architecture. When Cliff May's work came into fashion most new Berkeley houses were being built in the hills and May's low-lying, rambling horizontal form did not lend itself to hillside construction.
May was not favored by critics for decades, but of late there has been a resurgence of interest in his work. Much excitement was generated by the 2008 sale of the Berkeley home.
Contributed by Tom Dalzell, 2014