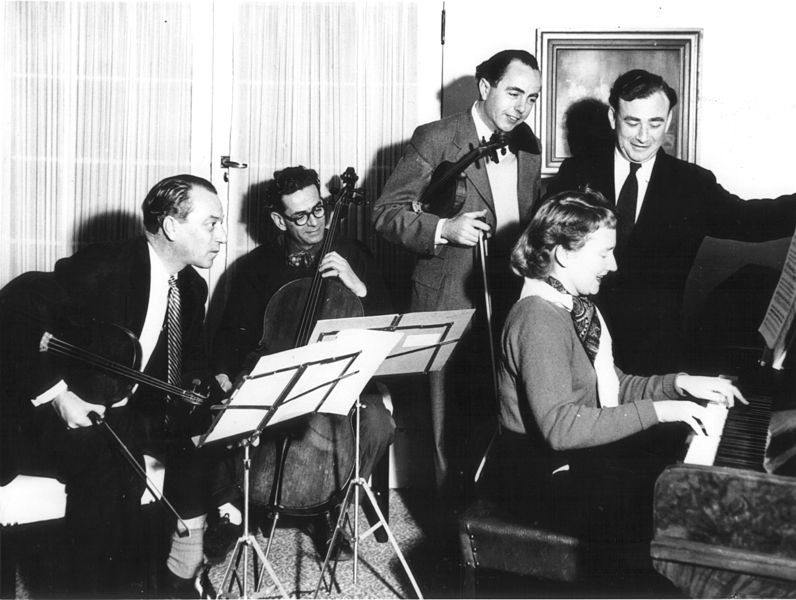 BERKELEY e-PLAQUE
Colin Hampton, Cellist
(1911–1996)
Hampton Residence:
1323 Arch Street
Hampton Later Residence:
309 Berkeley Park Blvd.
"…he was just a colossally great musician." —Anne Crowden
Colin Hampton was born in London and first educated in music at the piano by his father, an organist and self-trained musician. At fifteen he was admitted to London's Royal Academy of Music and two years later became cellist with the fledgling Griller Quartet, with whom he performed for thirty-five years. His playing produced an immediately identifiable, unique, and resinous sound, which he maintained into his sunset years.
The quartet's career was interrupted by the Second World War, when the members were inducted in the Royal Air Force. Continuing to play quartets in uniform, they became an iconic ensemble for wartime Britain. After the war they resumed development of an international career, which culminated in residency at the University of California at Berkeley. Colin was happy to settle down and become part of a community instead of being, as he said, "king for a night" in the towns they toured.
When the quartet's touring days ended, Colin was happy to become a teacher and contribute to local musical life. Bravely, he decided not to play professionally any longer. Turning down a number of job offers, he became a Pater Familias to cellists and chamber music aficionados in Berkeley and the larger Bay Area.
Colin Hampton was an influential teacher of great psychological and musical insight. A spiritual man with strong emotions, he loved young people. Fiercely loyal, he gave support to people and organizations he believed in, notably as a board member of the Crowden School in Berkeley.
A closet composer during his performing days, he was now was free to write and arrange pieces for cello ensembles of various sizes. In his last months, he set "La Corona," John Donne's sacred verses, for which he received a congratulatory letter from the Bishop of San Francisco. Colin Hampton was a man who loved and was loved. His last words were "dying isn't so bad."
Contributed by Ian Hampton, 2013