Daniel Koshland Jr., Biochemist, Educator, Philanthropist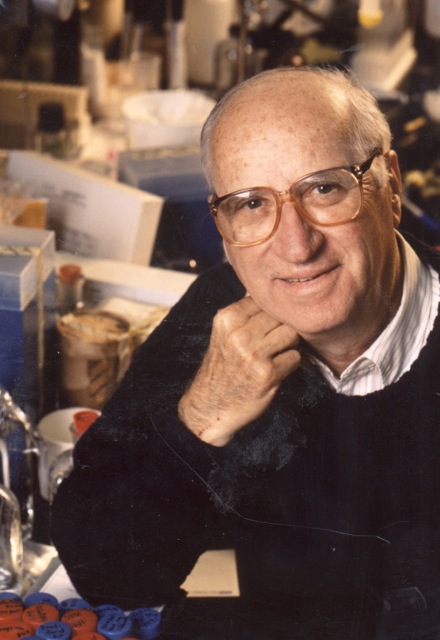 BERKELEY e-PLAQUE
Daniel Koshland Jr., Biochemist, Educator, Philanthropist
(1920–2007)
Koshland Hall UC Berkeley
Daniel Koshland was an eminent biochemist, educator, university administrator, public spokesman for science, and philanthropist. Without him the UC Berkeley campus would have neither its current physical appearance nor the world-wide reputation of its life sciences departments.
Part of a family that came to California in the late 1800s, Koshland's father was President and Chairman of the Board of Levi Strauss & Co. As an undergraduate chemistry major graduating in 1941, Daniel Koshland became the third generation of his family to receive a UC Berkeley degree. Following work in the Manhattan Project during WW II, Koshland earned a Ph.D in chemistry at the University of Chicago. He subsequently did research at Harvard and the Brookhaven National Laboratory before returning to UC Berkeley. He remained there for the rest of his active life doing seminal work on enzymes and bacteria's response to environmental stimuli.
As chairman of the Biochemistry Department, Koshland spearheaded a reorganization of the study of biology at UC Berkeley. He condensed eleven departments into three to reflect advances in genetics and other life-science studies. Disparate areas of research were consolidated into the departments of Molecular and Cell Biology, Integrative Biology (devoted to whole organisms) and Plant and Microbial Biology.
Koshland edited Science from 1985 to 1995, placing his own strong stamp on the journal. He colorfully redesigned the magazine and strengthened its news and features departments. His whimsy came out in monthly editorials featuring a colloquy with a certain Dr. Noitall—" inventor of the chain letter and insider trading"—who inevitably represented the stodgiest side of science. During his stewardship, he remade Science into one of the two leading world-wide journals of general scientific research and policy.
Prof. Koshland's widespread philanthropy emphasized research, teaching, and the public understanding of science. Among his many endowments were the Marian Diamond Koshland Science Museum in Washington, D.C. (named in honor of his first wife, a noted Berkeley immunologist), fellowships at Israel's Weizmann Institute, and a Life Sciences library at UC Berkeley. Prof. Koshland was honored and respected by his colleagues and revered by his students. His name appears on Koshland Hall on the Berkeley campus, a building which would not exist without his efforts.
Contributed by Ed Theil, 2014