Don Barksdale, Basketball Player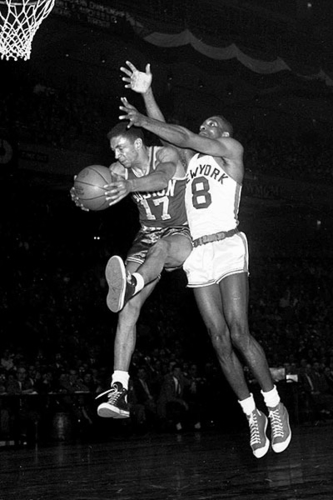 BERKELEY e-PLAQUE
Don Barksdale, Basketball Player
(1923-1993)
Berkeley High Schoool:
Allston Way and Martin Luther King, Jr. Way
Oakland native and Berkeley High grad. Barksdale was a man of more than his many firsts. He was among the first group of black athletes to break the color barrier in professional sports. In 1951, four years after Jackie Robinson broke into baseball's major league and Kenny Washington joined the National Football League, the first black players to do so, Don Barksdale joined the early ranks of black basketball players in the National Basketball Association.
Although engaged in a number of financial and professional ventures at the time, Barksdale accepted an extremely lucrative contract from the Baltimore Bullets. During his professional career, which was cut short by injuries in 1955, Barksdale became the first black player named on an NBA All Star Game and, after being traded by Baltimore, was the first black player on the Boston Celtics.
During his NBA career, Barksdale pioneered a style of basketball that eventually became widely adopted. He had great speed going up and down the court and was a dominant player above the rim. These skills came to characterize the evolving NBA game. Barksdale was an effective player underneath the rim as well, and, at 6 feet 6 inches, Barksdale played both center and forward; the modern game is also moving toward utilizing such multi-position players. His short NBA career was a brilliant one, despite his receiving relatively few passes from white teammates.
Barksdale gained his early basketball experience honing his skills on local playgrounds. Though his family lived in Oakland, Barksdale attended Berkeley High where he was not allowed to play on the school's team because the quota of one black player was already filled. He managed to gain experience playing on park leagues.
Barksdale moved on from the local playgrounds to play for two years at Marin Junior College before entering UCLA on a scholarship. He was a dominant player in college and became the first black college player named to the All America team. Barksdale was also the first black player on the NCAA All-American team and the first to play on a United States men's Olympic basketball team, which won the gold medal at the 1948 London Games.
Following his basketball days, Barksdale pursued a career in radio and television, helped found Cosmos, a social club in Los Angeles, and owned a record label, two nightclubs in Oakland, and a beer distributorship. He established the California's Save High School Sports Foundation, which helps fund athletic programs in schools.
Barksdale died at the age of 69 in Oakland. A 2007 documentary about his life, Bounce: The Don Barksdale  Story, was produced for the Berkeley-based Athletes United for Peace. Barksdale was a member of the 2012 induction class of the  Basketball Hall of Fame.
Contributed by Carl Wikander, 2017