Laurette Goldberg, Musician, Early Music Expert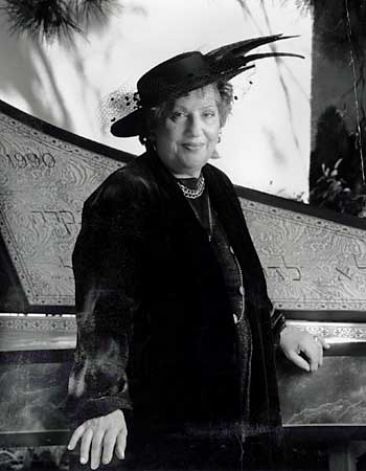 BERKELEY e-PLAQUE
Laurette Goldberg, Musician, Early Music Expert
(1932–2005)
MusicSources:
1000 The Alameda
Laurette Goldberg taught music in the Bay Area for 40 years and chaired the Baroque music program at the San Francisco Conservatory of Music. In 1986, she created MusicSources, a cultural resource center, educational institution, library of early performance documents, and museum of early instruments at her home and studio on the corner of Marin Ave. and The Alameda.
Robert Commanday, music critic for the San Francisco Chronicle, called Goldberg the "Matriarch and Master of Early Music." She worked tirelessly to broaden public appreciation for Medieval, Renaissance, and Baroque music as they were originally performed on the instruments of their day. Goldberg believed that historically informed performances "connect us with the continuum of history, of which music is a major artifact," the "now of then."
Goldberg's music education began at the Chicago Musical College where she studied with Rudolph Ganz. She later did graduate work with Egon Petri at Mills College in Oakland. While she was a keyboard artist and accompanist with the Oakland Symphony Chorus she was inspired by that artistry of Wanda Landowska to purchase a harpsichord and begin studies with two of the world's leading performers, Ralph Kirkpatrick and Alice Ehlers. Through her friendship with harpsichordist Gustav Leonhardt she developed close ties to the Dutch leaders in early music performance: period flutist, Franz Brueggen, Baroque cellist, Anner Bylsma, and violinist Jaap Schroeder.
In 1981, Goldberg founded the Philharmonia Baroque Orchestra, widely considered the first period instrument orchestra in America. The Orchestra's conductor, Nicholas McGegan, echoes Commanday when he says that Goldberg was "the mother of us all": her birthing and nurturing of an early music community attracted performers, scholars, instrument builders, and teachers to Berkeley.
Contributed by Diana Kehlmann, 2013