Henry ("Hank") Rubin, "Father of the Berkeley Food Revolution"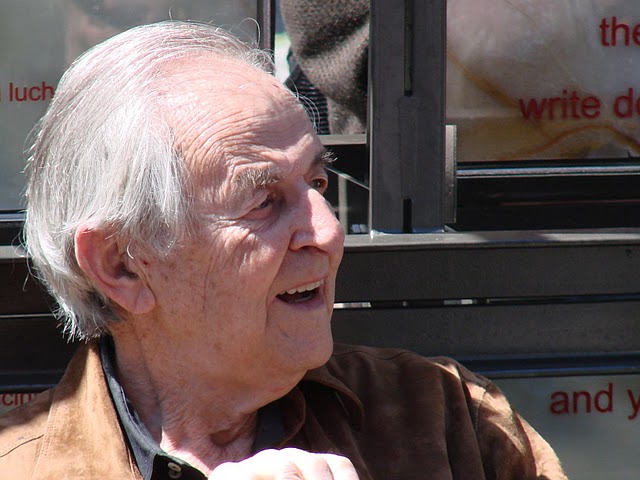 BERKELEY e-PLAQUE
Henry ("Hank") Rubin, "Father of the Berkeley Food Revolution"
(1916–2011)
Pot Luck Restaurant:
2400 San Pablo Avenue
Before Chez Panisse and the growth of Berkeley's reputation as a diner's destination, when local food lovers travelled to San Francisco to find a topnotch meal, Hank Rubin ran a traditional European, family-style restaurant called the Pot Luck. It can be said that the Berkeley food revolution originated there in 1960, at the corner of San Pablo Avenue and Channing Way. Rubin subsequently opened a downtown sandwich, salad, and pie restaurant, Cruchon's ("little jug"), where many tasted French onion soup and vichyssoise for the first time. He later shared Pot Luck ownership with Narsai David, a young employee and protégé who would develop the restaurant's catering service and open his own catering business and restaurant in Kensington.
The paradoxically mild-mannered yet fiery Rubin, a native of Portland, Oregon, was a progressive who dropped out of UCLA pre-med studies to join the Abraham Lincoln Brigade of American volunteers fighting fascism in the Spanish Civil War. He later served in the Pacific during WWII. A lifelong activist, Rubin also took part in Berkeley's anti-Vietnam War protests.
Attendance at the Pot Luck began slowly, but when San Francisco Chronicle columnist Herb Caen wrote that Rubin himself had labelled it "the only San Francisco style restaurant in the East Bay," business took off. Rubin offered good value and premier service in a low-key, hospitable environment. During the 60s and 70s, innovative menus and wine lists fed its national reputation as one of the leading fine restaurants in the Bay Area. Each Monday night the Pot Luck featured cuisine from a different country, and a Rubin innovation: the pairing of select wines with different dishes. A very popular annual event was the Monday Night Anniversary, which featured the years' best menus.
The customer was always right at the Pot Luck. Once a dinner party of three ate every last morsel of food on their plates, all the while complaining disruptively about its quality. Rubin met them as they were leaving and asked how they had enjoyed themselves. When they voiced their discontent he apologized, ripped up their bill, and said, "This one's on us. Please don't come again." He then tipped their waiter from his own pocket.
During an era of widespread racial intolerance, Rubin practiced social justice. At the Pot Luck, a union shop, he insisted on hiring black employees. At Cruchon's, where sandwich makers were visible to diners, Rubin was undeterred by a loss of customers, angry protests, and threats of a boycott in response to his employing a staff that was mixed by gender and race and included longhaired students. He had a close relationship with his employees at both the Pot Luck and Cruchon's. Most stayed with him until the restaurants closed. When the Pot Luck was shuttered in the 70s its wait staff moved to Spenger's.
Rubin was a widely respected wine taster with an uncanny ability to discern how wines would age. He was open and scrupulously honest in stressing the positive in ranking wines without saying bad things about inferior labels and vintages. He hosted a food and wine program on KPFA radio and for 15 years wrote the weekly "The Wine Master" column in the San Francisco Chronicle. He was also wine editor of Bon Appetit.
Contributed by Robert Kehlmann with assistance from Marci Rubin, 2015