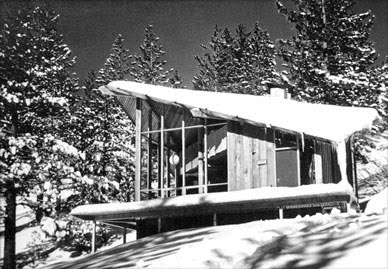 BERKELEY e-PLAQUE
Henrik Helkand Bull, Architect
Fellow, American Institute of Architects
(1929–2013)
Bull Residence:
477 Arlington Ave
Henrik Helkand Bull was born in New York of Norwegian descent. He spoke Norwegian and was on skis from the age of three. As an adult he was an intrepid expert on the slopes, a gifted story teller, and a pioneer in snow country planning, designing, and building. Bull studied at MIT under such notables as Ralph Rapson, Buckminster Fuller, and Alvar Aalto. In 1957 he opened his own San Francisco office and began an architectural career designing award winning residences. In 1967 the firm was expanded to become Bull Field Stockwell and Volkman.
Bull lived in Berkeley for over forty years. He served as president of the Berkeley Architectural Heritage Association (1977–78) and was lauded for his (unsuccessful) efforts to save the Berkeley High Gym, his work for the Berkeley Library System, and his guided tours of Berkeley.
After serving as president of the San Francisco AIA, Bull was later elected Fellow of the National AIA. He received 43 major awards including ones for the designs of the Point Reyes Visitor Center in Olema Valley and the Northstar Resort near Truckee. Bull Field Stockwell and Volkman won the competition entry for the State of Alaska Capital Center.
In Bull's obituary, SF Chronicle's design critic John King wrote: "He represented a regional sensibility, all about warmth and color and texture." Bull's office colleagues remember him as "a wonderful man…whose warmth and passion for his craft were contagious." He was generous with his time and expertise, qualities which infused everything he did. Bull was dedicated to making his designs comprehensible and held that often the simplest design solution is the best. He was not interested in awards or building monuments to himself; his approach to architecture sprung foremost from clients' needs and aspirations.
Contributed by James Samuels, 2014