Jack LaLanne, Fitness Expert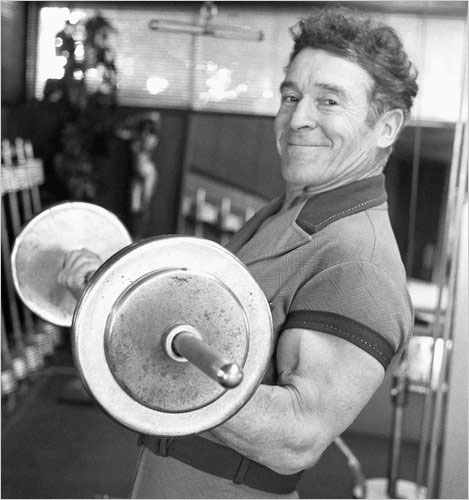 BERKELEY e-PLAQUE
Jack LaLanne, Fitness Expert
(1914–2011)
LaLanne Residence:
2430 Spaulding Ave.
Berkelyans have always shown an interest in personal health. In the city's early days open-air sleeping porches were popularly used for invigorating the body's defenses against TB. Later generations sought fitness and health at gyms, on trails, in pools, and at produce aisles. But before personal trainers and health bars became popular, perhaps the twentieth century's most influential guru of the healthy life was growing up in Berkeley.
Jack LaLanne was a student at Berkeley High School when he began his pilgrimage from a self-described sugar-addicted couch potato to a muscular adult capable of escaping from Alcatraz by swimming in handcuffs. He was fifteen years old when he attended a lecture by Paul C. Bragg in Oakland that inspired a lifetime of organic foods and physical exercise. LaLanne began his new life by working out at the Berkeley YMCA on Allston Way and at San Pablo Park (in what was then known as Finntown), eventually achieving athletic success as the starting quarterback of the Berkeley High School's varsity football team.
LaLanne began spreading his message at the gyms he ran, first in his backyard on Spaulding Avenue and later in ones in Oakland and, after service in the South Pacific in World War II, in Hollywood. It was in the southland that LaLanne rose to celebrity status, hosting a televised exercise program that ran nationwide from 1959 until 1985.
His escape from Alcatraz at age 41 was just one of his many feats of strength and stamina: a year earlier he had swum the length of the Golden Gate underwater with 140 pounds of equipment, and a few years later he traveled by paddleboard from the Farallon Islands to the Bay.
Contributed by Carl Wikander, 2012