Jaime de Angulo, Anthropologist, "Erratic Genius"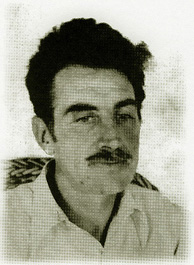 BERKELEY e-PLAQUE
Jaime de Angulo, Anthropologist, "Erratic Genius"
(1887–1950)
Lucy Shepard Freeland ("Nancy") Residence:
2851 Buena Vista Way
Born in Paris to a wealthy, devout, ex-patriot Spanish family, the handsome, brilliant, and charismatic linguist, writer, and ethnomusicologist Jaimie de Angulo received a Jesuit education. At age 18 he rebelled and fled to Colorado where he worked as a cowboy. He then travelled on to South America, pursued silver mining in Honduras, and arrived in San Francisco just in time for the 1906 earthquake.
De Angulo subsequently earned a medical degree from Johns Hopkins University and married Carey Fink, a fellow medical student and future associate of Carl Jung. After working as a genetics researcher at Stanford, de Angulo dismissed medicine as "a pile of junk" and bought a cattle ranch in Modoc County, where he came in contact with California's Pit River Indians.
The ranch failed in 1915 and de Angulo homesteaded in Big Sur on a ranch where he would live intermittently for much of the rest of his life. In nearby Carmel he met Lucy Shepard Freeland ("Nancy"), a New Jersey native from a wealthy family who would become his second wife. De Angulo introduced Nancy to linguistics and encouraged her to enroll at U.C. Berkeley.
De Angulo had no formal academic training, yet when Nancy, who had become a prized student of Alfred L. Kroeber, introduced the two, the famed anthropologist recognized genius and hired the brilliant yet self-taught colleague as a summer lecturer. Kroeber soon objected to the "erratic" and "unstable" behavior of de Angulo, a man known to have indulged his passions with both men and women (at times dressed in women's clothing). Objecting to de Angulo and Nancy living together in her Bernard Maybeck-designed home while de Angulo was still married to Carey Fink, as well as to other perceived professional "transgressions," Kroeber blackballed him from Berkeley academia. De Angulo mused that "Decent anthropologists don't associate with drunkards who go rolling in ditches with shamans" and wrote to Ezra Pound that "He (Kroeber) is a Bastard."
In addition to Pound and Jung, the affable de Angulo befriended D.H. Lawrence (whose romantic advances he rejected because he didn't like the way Lawrence smelled), Henry Miller, Harry Parch, Henry Cowell, Robinson Jeffers, and countless other poets, mystics, and scholars. As a Spaniard with a "spirit of wonder," he felt a special affinity with Native Americans and conducted studies by "going native." During his lifetime he wrote poetry and fiction about Indians and their myths, published more than a dozen articles, and wrote 17 grammatical sketches of native languages. When he finally received a linguistics grant, de Angulo commented that the funders "didn't give a damn about my private morals so long as my phonetics were right."
De Angulo and Nancy had two children. After a 1933 automobile accident that seriously injured him and killed Alvar, his nine year old son, de Angulo gave up field work. Nancy divorced him in 1943. After an attempted suicide in Berkeley, he moved to San Francisco and lived on income from odd jobs and a small allowance from Nancy. In 1948 he was diagnosed with prostate cancer. De Angulo spent his final years with poet Robert Duncan as his typist in the house he had rebuilt for Nancy after the 1923 Berkeley fire. A life-long insomniac with vivid nightmares, de Angulo so dreaded sleep that he refused pain killers. One year before dying he read his fictional handling of California Indian myths, Indian Tales, over local radio station KPFA.
Contributed by Robert Kehlmann, 2015