World War II Assembly Point for Japanese-American Internment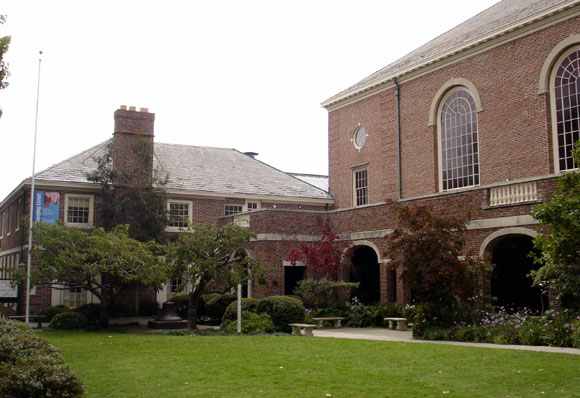 BERKELEY e-PLAQUE
World War II Assembly Point for Japanese-American Internment
(1942)
Pilgrim Hall—First Congregational Church of Berkeley
2345 Channing Way
Fear and anger after Japan's attack on Pearl Harbor inflamed public sentiment against Japanese-Americans, who were already heirs to a long legacy of anti-Asian discrimination on the West Coast. President Franklin Roosevelt's Executive Order #9066 in February, 1942, led to the forced removal of over 100,000 individuals from West Coast homes to barren, guarded, internment camps.
Berkeley's half-century old Japanese-American community was uprooted in a few months. Approximately 1,300 "persons of Japanese ancestry, alien ornon-alien," including UC students and professors, had to vacate homes, quit jobs, leave school, close businesses, and sell possessions.
While most Californians supported internment, some were opposed, including activist Ruth Kingman. She asked her church, First Congregational, to provide a dignified place for internees to assemble. The church offered Pilgrim Hall. For four days local church women came here to offer food and support while Berkeley's Japanese-Americans registered, then boarded buses for relocation camps.
In 1945 the interned Japanese-Americans were allowed to return to Berkeley. Some resettled elsewhere. Many who returned here had permanently lost houses, jobs, and businesses.
Contributed by Berkeley Historical Plaque Project, 2008