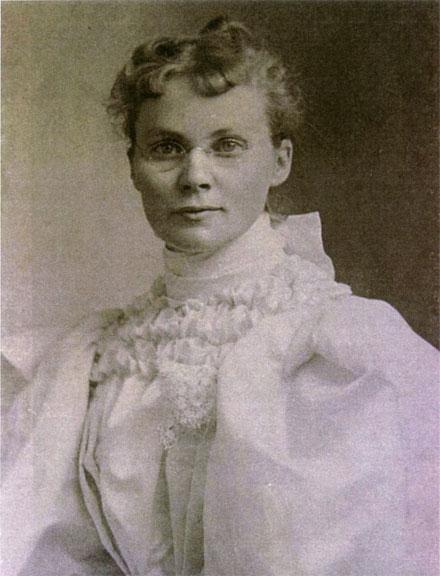 BERKELEY e-PLAQUE
Jennie Vennerström Cannon, Artist
(1869–1952)
George P. Jensen, Builder
Cannon Residence (1895):
1631 La Vereda Road
Jennie V. Cannon, Designer
Cannon Studio (1927; 1931):
1633 La Vereda Road
Lilian Bridgman
, Architect
Cannon Studio/House (1928):
1629 La Vereda Road
Born in Albert Lea, Minnesota to Scandinavian immigrants, Jennie Vennerström lost her mother at the age of two and grew up in poverty, living in various relatives' homes around Battle Lake. Although unable to attend school for six years from the age of 11, Jennie constantly sketched and read books borrowed from neighbors. At the age of 17, she returned to school and within six months obtained a teaching credential.
Jennie's ambition soon led her to Hamline University in St. Paul, where she excelled, graduating in 1895 with a Ph.B. The next year she followed the painter and art teacher Bolton Colt Brown to Stanford University, which would award her its first master's degree in art. During Easter 1897, she made her first visit to the Monterey Peninsula, sketching extensively in Carmel. About this time she met botany student William Austin Cannon; they married in January 1898.
Following a few years in New York, where Jennie studied at the National Academy of Design and with William Merritt Chase at the New York School of Art, the Cannons moved to Tuscon. Here Jennie began making a name for herself as a painter of Southwestern landscapes. Summers were spent in Carmel, where Jennie became an important member of the art colony.
Divorced in 1918, Jennie moved to Berkeley the following year and acquired the old Theodore Petersen house, 1631 La Vereda Road, which she turned into an at-home art gallery. She exhibited widely, taught and lectured on art, and in the 1920s served as the Berkeley Gazette's art editor.
Jennie survived the Great Depression by becoming a landlady. Her primary residence was subdivided into apartments. A small art studio she had built next to her house in 1927 was expanded into a residence and sold in the mid-1930s. The studio/residence she built in 1928 at 1629 La Vereda Road was let to tenants.
In 1942, Jennie published an autobiography of her early life, Watershed Drama, Battle Lake, Minnesota. She returned to Tuscon in 1948.
Contributed by Daniella Thompson, 2014