Joaquin Maria Nin-Culmell, Pianist, Composer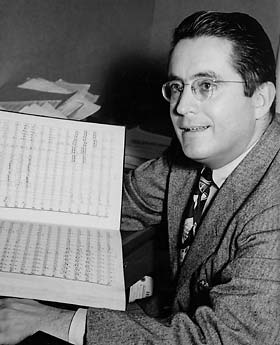 BERKELEY e-PLAQUE
Joaquin Maria Nin-Culmell, Pianist, Composer
(1908–2004)
Nin-Culmel Residence:
165 Hillcrest Road
Oakland Residence:
5830 Clover Drive
A Berkeley music aficionado once made a delivery of flowers to Nin-Culmell. The composer asked him if he was a musician, to which the reply was, "No. Not really." Nin-Culmell then asked, "Do you love music?" When the answer was a passionate "yes!", the composer, equally passionately, replied, "Then you are a musician!"
Spanish-Cuban composer and pianist Joaquin Nin-Culmell, brother to writer Anais Nin, was born in Berlin in 1908. Their mother, Rosa Culmell, was a Cuban singer of French and Danish descent, and their father, Joaquin Nin y Castellanos, was a pianist and composer. Rosa separated from her husband when Joaquin was about 8 years old and moved with her children to New York. She returned with them to Europe when he was fifteen, and it was there he received his music education at the Schola Cantorum and the Paris Conservatoire. He studied with pianists Alfred Cortot and Ricardo Vines and composers Manuel de Falla and Paul Dukas.
Nin-Culmell returned to the United States in 1939. He taught at Middlebury College in Vermont and at Williams College in Massachusetts, where one of his students was the composer Stephen Sondheim. Nin-Culmell joined the UC Berkeley faculty in 1950 and soon became an integral part of Berkeley's musical life. Aside from teaching, he conducted the University Symphony Orchestra and performed as a pianist throughout the Bay Area. Nin-Culmell was both a guest conductor and piano soloist with the San Francisco Symphony. Under the baton of Pierre Monteux he performed his own Piano Concerto in C Major. Though he lived and taught for many years in the U.S., his music remained deeply connected to his Spanish heritage.
Contributed by Diana Kehlmann, 2013