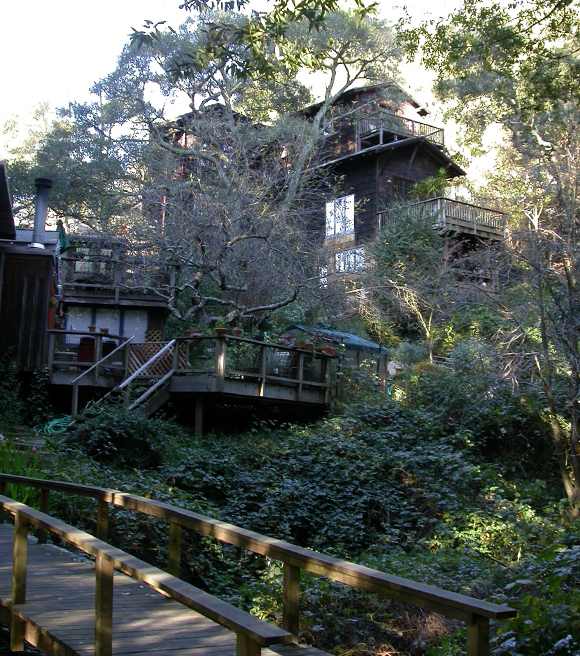 BERKELEY e-PLAQUE
John White, Architect
(1870–1941)
White Residence
1163 Euclid Avenue
In 1890, while John White was a young draftsman in Kansas City, his sister Annie married Bernard Maybeck and moved to the Bay Area. John followed shortly thereafter and for a time lived with his sister and brother-in-law in the first house Maybeck designed in Berkeley.  The building, though vastly altered, is now a City Landmark. White worked briefly with his brother-in-law, but it was his younger brother Mark, an engineer, who formed a partnership with Maybeck.
Around 1900 John became first a draftsman and later a partner in the San Mateo architectural firm of George H. Howard, Jr. The firm subsequently achieved great success building estate homes and civic buildings on the Peninsula and in Marin County.
During his lifetime White produced a handsome body of work taking traditional styles and making them his own. His Tudor Revival Le Conte Memorial Lodge in Yosemite, built for the Sierra Club, is on the National Register of Historic Places. White's projects in Berkeley include the First Bay Tradition Wallace/Sauer house and the Hillside Club, influenced by the simplicity of the Arts and Crafts movement—both are City of Berkeley landmarks. His own Craftsman style home with its complex massing on a hillside near Codornices Creek, has a rustic exterior and a more polished, formal, interior as is typical of much of White's work.  The house later became the home of photographer Dorothea Lange.
John White was a reserved person whose own family called him "the mystery man." He kept his marriage secret for eight years. It is speculated that he did this to avoid offending sister Annie.  His wife was a smoker and Annie and her circlewere strict vegetarians who strongly disapproved of tobacco.
Contributed by Bob Johnson, 2012