Johnny Otis (Ioannis Alexandros Veliotes), Musician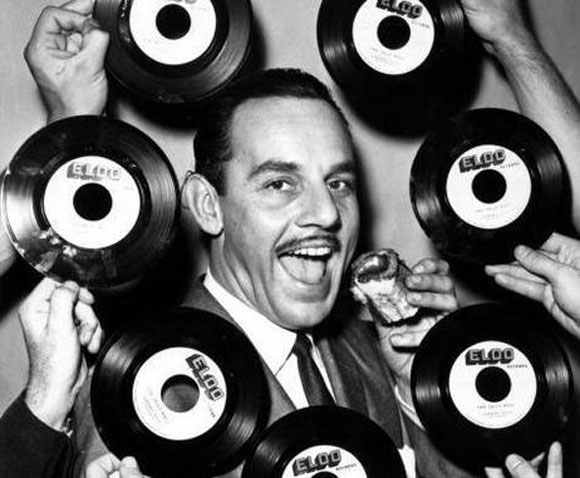 BERKELEY e-PLAQUE
Johnny Otis (Ioannis Alexandros Veliotes), Musician
(1921–2012)
Otis Family Residence:
2725 Dohr Street, corner of Ward Street
Rock and Roll Hall of Fame musician, impresario, talent scout, and longtime Berkeley KPFA radio disc jockey Johnny Otis was born Ioannis Alexandros Veliotes in Vallejo. When he was two the family moved to West Berkeley where they lived in an apartment above the grocery store they operated. Greek was spoken at home, and Ioannis travelled to San Francisco weekly for Greek Orthodox Church school classes.
As a boy he encountered severe racial prejudice and quit the Boy Scouts when they rejected a friend because he was black. He wasn't athletic, always being picked last when sides were chosen at the basketball courts in nearby San Pablo Park, and had learning difficulties, perhaps due to English being a second language. When Berkeley High administrators transferred him to McKinley Continuation School, he felt as though he had been expelled. Otis worked on cars, raised pigeons, and, with a drum set and vibraphone purchased by forging his father's signature on the sales contract, taught himself music in a storage shed behind the family store.
In his teens he changed his name to "Johnny Otis," the name his friends gave him, and identified himself thereafter as a black man: "As a kid I decided that if our society dictated that one had to be black or white, I would be black." "Black culture captured me, I loved it, and it was richer and more fulfilling and more natural. I thought it was mine."
In 1941 he and Berkeley neighbor Phyllis Walker travelled to Reno where interracial marriages were legal. Their marriage lasted until his death, 71 years later. Otis soon found work as a musician and so began the career of the man who would come to be known as "the Godfather of Rhythm and Blues."
Contributed by Robert Kehlmann, 2012