La Loma Park Historic District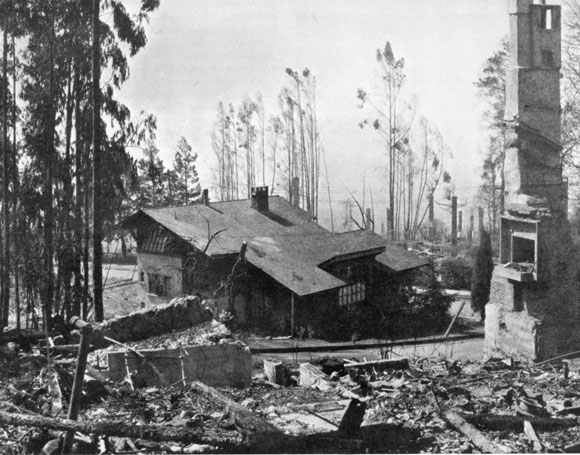 BERKELEY e-PLAQUE
CITY OF BERKELEY LANDMARK
designated in 2002
La Loma Park Historic District
1508-1544 La Loma Avenue
2678 and 2704 Buena Vista Way,
1581 Le Roy Avenue
This, Berkeley's third historic district, is made up of 12 residential properties and the Hillside School, all built between 1908 and 1940 on the 32-acre 19th-century farm site of Captain Richard Parks Thomas. It reflects the variety and exceptional quality of architectural design in the first half of the 20th-century for which Berkeley is renowned. First Bay Region and Craftsman, Spanish Colonial, Viennese Secession, early Modernist—all of these styles and others were interpreted here in the buildings of Bernard Maybeck, Ernest Coxhead, John Ballantine, Jr., Warren Perry, Roland Stringham, Walter Ratcliff, Jr., and Oskar Gerson.
The early 20th-century Hillside Club philosophy of following the natural contours of the land, building in harmony with nature, and using natural materials, became guiding principles in Berkeley. Those principles are clearly evident in La Loma Park's street layout, siting of structures, and architecture.
The District is notable not only for the wealth of major architects represented here, but also for their numerous historically important clients: the geologist Professor Andrew Lawson, first to map the San Andreas fault; Alexander Meiklejohn, internationally known for innovations in higher education and political thought and advocate of freedom of speech as the guarantor of democratic government; Dr. Katharine Bishop, co-discoverer of Vitamin E; Professor Edward Tolman, psychologist well known for opposition to the University's "Loyalty Oath" in the early 1950s; Bernard Etcheverry, influential professor of irrigation and drainage who helped to formulate water policy in California.
Contributed by Berkeley Historical Plaque Project, 2008, 2012
Mathewson House, Bernard Maybeck Architect (1915), 2704 Buena Vista Way, Photo (2011), R. Kehlmann.

Prof. Andrew C. Lawson House, Bernard Maybeck Architect (1907),1515 LaLoma, photo (2011) R. Kehlmann.

John K. Ballentine House, John K. Ballentine Architect, 1924, 1512 La Loma Ave., photo 2011 R. Kehlmann.