Lilian Bridgman, Architect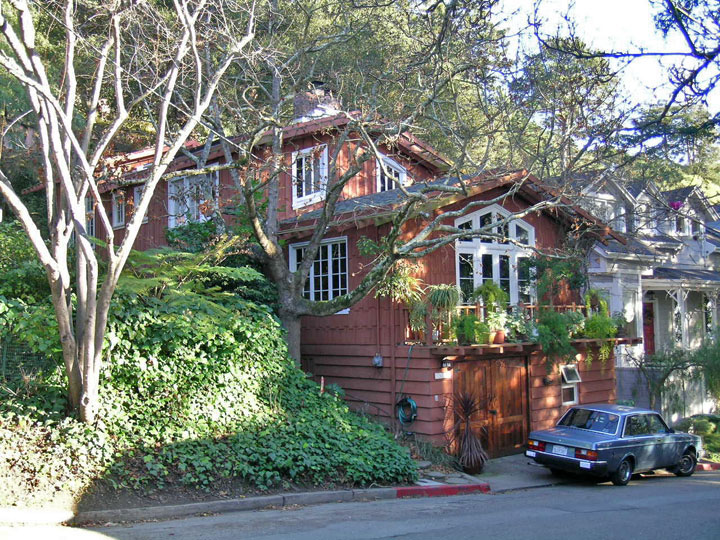 BERKELEY e-PLAQUE
Lilian Bridgman, Architect
(1865–1948)
Lilian Bridgman House & Studio
1715 La Loma Avenue
In 1899, 16 years before she obtained her architectural license, Lilian "Lillie" Belle Bridgman designed—with Bernard Maybeck's help and William Knowles' drawings—her own brown-shingle Arts & Crafts residence on Berkeley's Northside. Two years later, the high-school science teacher was serving on the Hillside Club's advisory board, formed to offer advice to home builders. In 1908, she built a rustic studio behind her house that later served for her architectural practice.
Born in Atchison, Kansas, Bridgman came to Berkeley in 1891, obtaining her M.S. degree under Joseph Le Conte in 1893. She was in her mid-40s when, disenchanted with the low wages paid to women teachers, she returned to U.C. to study architecture and worked for a while as draftsperson in Walter Ratcliff's office.
In 1915, Bridgman launched her modest architectural practice, designing homes and studios for acquaintances and word-of-mouth referrals, including prominent women such as Mary Blossom Davidson (1404 Le Roy, 1924); Kate Rawlinson Gompertz, M.D. (1236 Bonita, 1920); Susan L. Hill (3132 Eton, 1924); and Jennie Vennerstrom Cannon (1629 La Vereda, 1928).
Bridgman's style ranged from First Bay Tradition to modern Mediterranean. Busiest after the 1923 fire, she designed comfortable houses with many built-ins, as well as custom furniture. Her best-known Berkeley commission is a stucco-clad villa for Professor Frederic T. Bioletti (1020 Cragmont Avenue, 1922). The redwood-and-brick Lafayette hunting lodge she designed in the 1930s for Dr. Clarence Wills is now home to the Ace Architects partners.
Her last commission, in 1939, was an International Style studio duplex for Bioletti's widow (2661–2663 Le Conte Avenue).
Bridgman's poetry and prose were published in The Overland Monthly, Harper's Monthly, The Century Magazine, and McClure's.
Contributed by Daniella Thompson, 2013