Mario Savio, Student Activist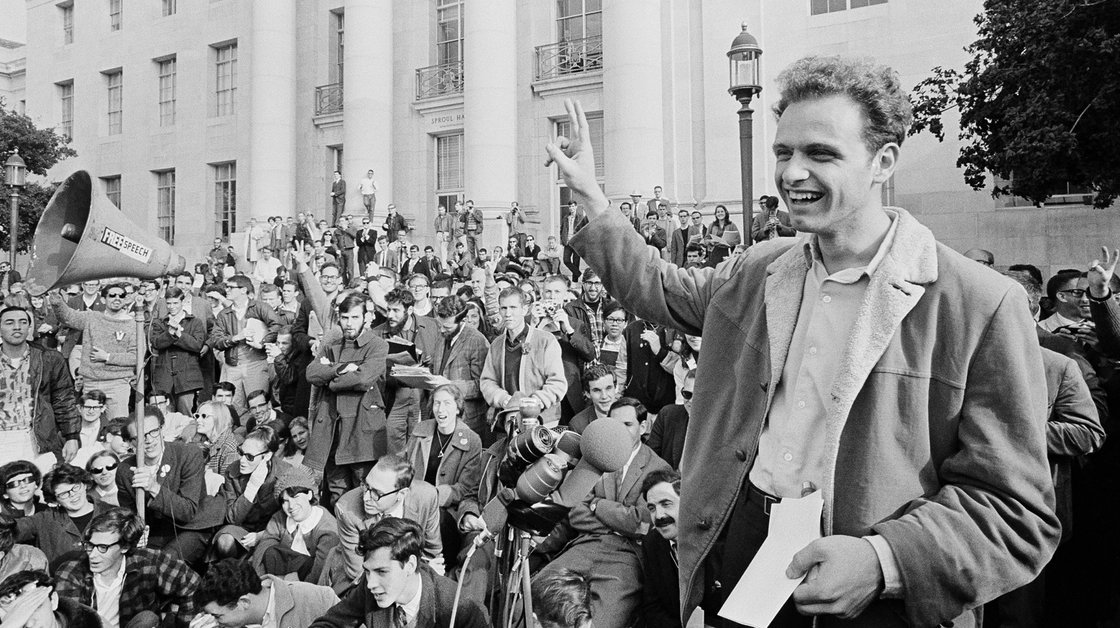 BERKELEY e-PLAQUE
Mario Savio, Student Activist
(1942–1996)
Savio Residence (demolished):
2536 College Ave
Mario Savio Steps:
Sproul Hall, UC Berkeley Campus
Mario Savio, voice of the student Free Speech Movement (FSM), embodied many of the qualities that characterized the '60s student movement: intelligence, articulateness, youthful energy, idealism, anti-authoritarianism, and a distrust of people over 30. Raised in a devout Catholic working class Queens, New York household, Savio served as an altar boy and considered joining the priesthood. He presided over the Confraternity of Christian Doctrine at Queens College before transferring in 1963 to UC Berkeley as a philosophy major. While helping register black Mississippi voters during the summer of 1964, Savio became politically radicalized.
Protest against the University's limiting of political activity on the Berkeley campus catapulted Savio into the national spotlight. When graduate student Jack Weinberg was arrested on December 2, 1964 for distributing political literature on campus, Savio's speech from Sproul Hall steps (now officially renamed Mario Savio steps) launched the Free Speech Movement (FSM). "There comes a time when the operation of the machine becomes so odious, makes you so sick at heart… you've got to put your bodies on the gears, and upon the wheels…upon all the apparatus." The ensuing sit-in resulted in the arrest of Savio and 782 others. Subsequent protests, often strategized in Savio's College Ave. apartment, became a model for anti-Vietnam War and other protests at universities and colleges during the following tumultuous decade.
Savio was expelled from UC and withdrew from public life in the late 1960s. He subsequently worked in an LA bookstore and suffered from bouts of depression. He married twice, both times to FSM veterans, and had children from each marriage. In the mid-1980s he earned degrees from San Francisco State University and, at the time of his death from a heart attack at age 53, Savio was a much loved math and philosophy teacher at Sonoma State University.
Contributed by Robert Kehlmann, 2013