Julia Morgan's Monumental Berkeley Swimming Pools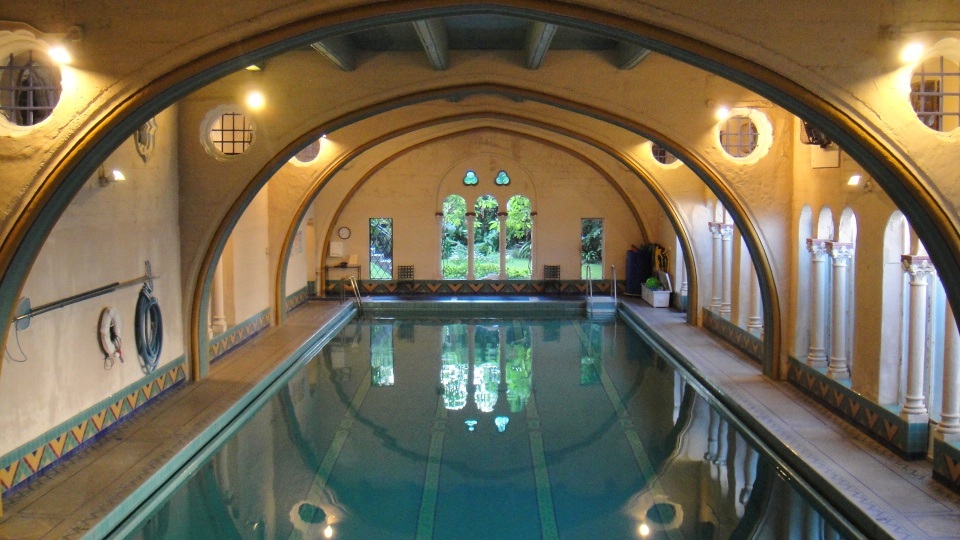 BERKELEY e-PLAQUE
Julia Morgan's Monumental Berkeley Swimming Pools
(1927–1930)
Hearst Women's Gymnasium:
UC Campus
Berkeley Women's City Club:
2315 Durant Ave.
Julia Morgan, the petite architect who was not quite five feet tall, designed over 700 buildings and 20 unique swimming pools. Three pools, two of which are in Berkeley, stand out above the rest: The "Roman Pool" at San Simeon (1920s); the outdoor North Pool at UC Berkeley's Hearst Women's Gymnasium, designed with Bernard Maybeck (1927); and the Berkeley Women's City Club pool (1930).
At San Simeon, Morgan designed three pools, each larger than the previous one. The spectacular indoor Roman pool is of imperial scale. Enclosed in a room naturally lit by large arched windows, the pool is flanked by alabaster shaded marble lamp stands and eight freestanding statues of gods, goddesses, and heroes. Every available surface—floors, beams and walls—is covered with floral designs on glass tiles infused with gold leaf. Morgan creates a sumptuous interior that has been aptly called an "exquisitely engineered stage set for hedonism."*
Morgan's Berkeley pools incorporate qualities of the San Simeon Roman pool in a less lavish manner. The spectacular North Pool, the largest of three in UC Berkeley's Hearst Women's Gymnasium, is surrounded by monumental classical elements evoking the feel of a Roman bath. There are large windows bordered by giant Corinthian columns beside the entryway and giant pilasters elsewhere. The pool, encircled by huge sculpted stone urns, opens to views of the campus and Berkeley Hills. In Julia Morgan's time, before the pool became co-ed in the 1970s, "one-piece flapper-style" bathing suits were issued to all swimmers.
The Berkeley Women's City Club indoor pool is surrounded by a continuous series of triple-arched windows separated by thin Corinthian columns. The eastern windows overlook a garden. Here, as in the Club's courtyard, Morgan separated the glazed elements from the structure to allow for uninterrupted windows. The pool area is defined by a series of arches, which give the feel of a barrel vault even though the ceiling is flat.
Julia Morgan's immense talents are amply displayed in her Berkeley pools with their surrounding ornaments and structures. It has been noted that Morgan's austere personal life contrasted with the luxuriousness often embodied in her work. She was neither a swimmer nor a bather, but perhaps the sensuality of water and swimming gave expression to feelings hidden in the privacy of an apparently chaste life.*
Contributed by James H. Samuels, 2015
*"Julia Morgan Architect" by Sara Holmes Boutelle, Abbeville Press, NY (1988).