The Morrell Airship Collapse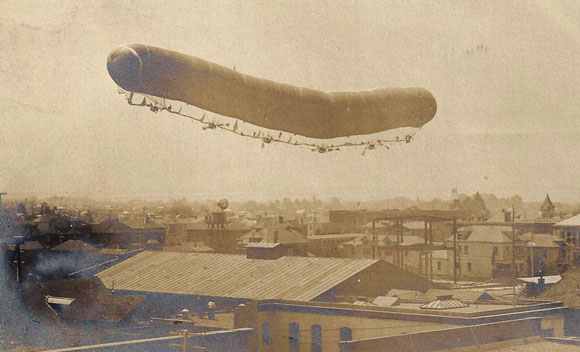 BERKELEY e-PLAQUE
The Morrell Airship Collapse
(23 May 1908)
Launch site:
Kittredge Street near Grove Street—now MLK Jr. Way
Five years after the Wright Brothers' first powered flight at Kitty Hawk, San Francisco inventor C.A. Morrell envisioned commercial dirigible balloon air service between California and Asia. With funds provided by his wealthy fiancée, Miss. A. Kern, Morrell constructed a 450-foot spacecraft at the Morrell Airship Company on Market Street. The craft was designed to run by gasoline engines powering wooden propeller blades draped with oiled silk.
When San Francisco denied permission to test launch, Morrell applied to Berkeley. Since nobody objected, Town Marshal August Vollmer granted permission despite personal reservations. Morrell and his large crew arrived 30 days before take-off, pitched tents to live in, and assembled the airship on Kittredge Avenue near Grove Street (now Martin Luther King (MLK) Jr. Way).
On May 23, 1908 an estimated 15,000 people looked on in horror and scrambled for safety as this country's first major airship disaster took place in the sky beside Berkeley High School. Morrell's plans to cross the Bay were thwarted when the dirigible balloon lost altitude after reaching a height of 300 feet. The descent was slow, but almost all of the aircraft's 16 crew members were seriously injured. Miraculously nobody in the craft or on the ground died.
Flaws in the canvas gas bag most likely caused the accident. Morrell suffered a broken leg, a dislocated hip, and internal injuries. He was quoted in the Oakland Tribune as saying, "I would rather have had my body crushed to a pulp than to have my experimental flight fail today."
Contributed by Robert Kehlmann, 2012