Donald and Helen Olsen House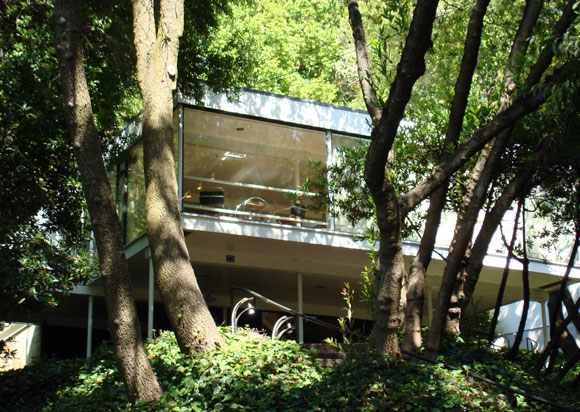 BERKELEY e-PLAQUE
CITY OF BERKELEY LANDMARK
designated in 2009
Listed on the National Register of Historic Places
Donald and Helen Olsen House
Donald E. Olsen, Architect, FAIA, and Helen Karen Olsen, Graphic Artist Elmer Steigelman, Structural Engineer; Willis Foster, Builder, 1954, alterations 1975, 1994
771 San Diego Road
This example of Mid-Century Modernist residential architecture is characterized by simple geometric forms, a limited palette of materials, and slender vertical structural framing, resulting in an illusion of weightlessness. The open floor plan and exterior glass walls are made possible by an innovative "moment frame" system allowing natural light from all directions. On a site selected by Helen Olsen, the house is positioned to preserve interior privacy while offering broad views of the natural surroundings.
Donald Olsen was Professor of Architecture for three decades at UC Berkeley. An original two-story interior stair mural was painted by Clare Falkenstein on commission in 1955.
Donald Olsen died in 2015.
Contributed by the Berkeley Historical Plaque Project, 2009