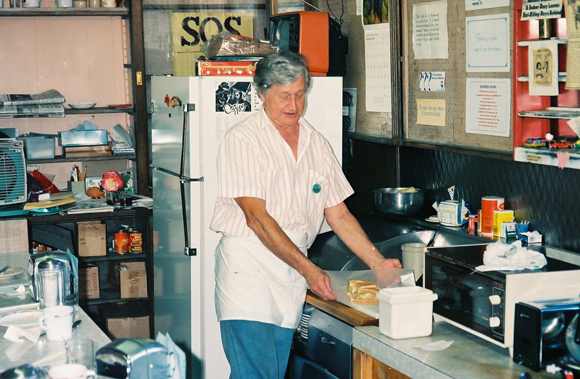 BERKELEY e-PLAQUE
Elmwood Pharmacy and Soda Fountain
"Ozzie's"
2900 College Avenue
From its opening in 1921 on the corner of College Avenue and Russell Street, when nearby Ashby Avenue was a quiet residential street, until its closure in 2008, the Elmwood Pharmacy and Soda Fountain was a unique Berkeley institution.
In 1951, World War II flying ace Charles "Ozzie" Osborne (1919–2009) bought the fountain from longtime owner Fred Beretta.  Plans soon emerged to create better access to the Caldecott Tunnel by extending the 580 Freeway down Ashby Avenue. Using the Soda Fountain as an ad hoc community center, the well-liked Beretta, along with residents and merchants, petitioned, protested, and helped defeat a plan that would have destroyed the neighborhood by driving a Robert Moses-style freeway through South Berkeley.
From 1950 to 1989, under Osborne's warm and friendly proprietorship, "Ozzie's" was the heart of the Elmwood.  A reminder of an earlier era, the pharmacy and soda fountain became a home away from home for many. One of its well-known "regulars" was Charlie, a boy with Down Syndrome, who sat at the counter every afternoon with his tuna sandwich and Coke alongside others known by the sandwiches they ordered: "The Chicken Pecan on Whole Wheat Toast Lady" or "The Egg Salad on Rye Man."
When new owners substantially increased Ozzie's rent in 1981, neighbors successfully rallied to preserve their historic neighborhood and keep the fountain open. When Ozzie retired, two Ozzie's regulars, Robin Richardson and Norm Shea, carried on the fountain tradition for nine years, adding homemade gourmet soups, pies, and oven baked turkey to the menu. In 2001, after a few other owners gave it their best try, the next owner/operator, Michael Hogan brought "Ozzie's" back to its former glory. Michael created an Ozzie's email newsletter, organized an Easter bonnet contest and a dog parade. Michael's tenure ended in 2007 and the location is now a popular neighborhood café which has retained many of the architectural elements of "Ozzie's."
Contributed by Diana Kehlmann, 2012
Note: This text was drafted in consultation with Burl Willes and is based on his book, "Tales from the Elmwood: A Community Memory," Berkeley Historical Society (2000). Special thanks to Richard Nagler.