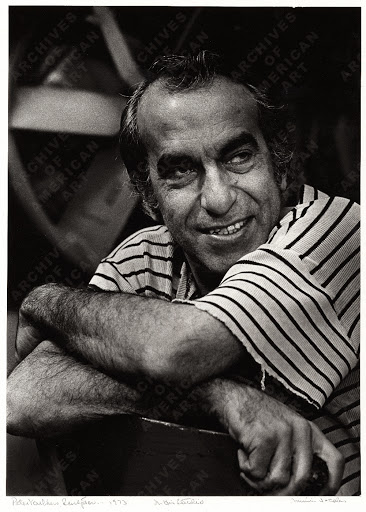 BERKELEY e-PLAQUE
Peter Voulkos, Sculptor
(1924–2002)
Voulkos Studio:
1306 3rd Street
Internationally renowned ceramist Peter Voulkos moved his studio from Shattuck Avenue (near Ashby Avenue) to this building on 3rd Street in the mid 1960s. He lived and worked here until his death. Voulkos was an energetic and charismatic teacher and sculptor whose outsized personality was likened by one art critic to Zorba the Greek.
Panagiotis Voulkos (called Peter) was born in 1924 to Greek immigrant parents in Bozeman, Montana. Drafted in 1943, he spent three years as an airplane gunner in the Pacific. With funds from the GI Bill, he returned to Montana to study ceramics before coming to the California College of Arts and Crafts in Oakland, where he earned an MFA.
Attracted to the freedom and spontaneity of abstract expressionist painting, in the mid 1950s Voulkos abandoned the vessel forms he had perfected as a student. He rejected functionalism, pushing ceramics in radical new directions. Voulkos' increasingly large, violent, passionate, rough, torn, ripped, gouged, broken, and pounded works were often left unglazed or spattered in a painterly manner. Major art museums worldwide exhibited and purchased his sculptures, effectively blurring the distinction between art and craft.
Voulkos came to the University of California, Berkeley in 1959 and established a ceramics studio as part of what was then called the Design Department. The studio quickly became a hotbed of creativity, attracting students from all the arts as well as other disciplines and inspiring many to pursue successful artistic careers. After retiring in 1985, he continued making large cast metal and ceramic sculpture.
Contributed by Robert Kehlmann, 2012