Phil Hardymon, Musician, Arranger, Educator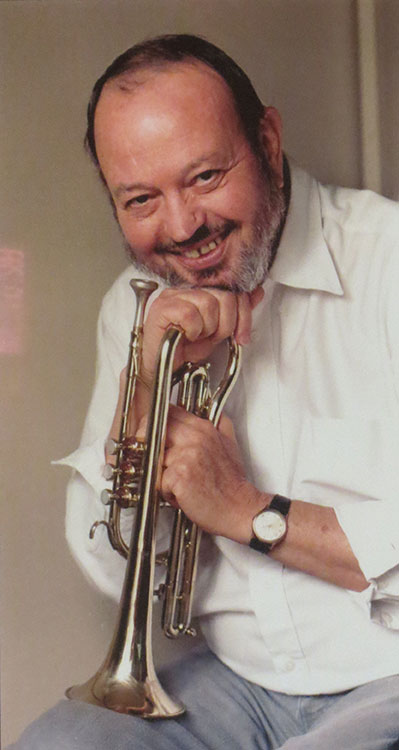 BERKELEY e-PLAQUE
Phil Hardymon, Musician, Arranger, Educator
(1933–1998)
Berkeley High School
"He was the best teacher in any subject I ever had. The amount he cared about our achieving excellence in music was only matched by the amount he cared about us as individuals." — Peck Allmond, Musician
"What is it out there? You got something in the water?" saxophonist Dave Ellis was asked when he arrived at Boston's Berklee School of Music. Major jazz talents were emerging from Berkeley High at a rate that was being noticed nationwide and behind that phenomenon was the teaching talent and dedication of Phil Hardymon.
Phil Hardymon was born in a converted boxcar along the Missouri/Pacific railroad line in Kansas. When he was about 10 years old the family moved to Stockton, California, where he learned to play the trumpet. He went on to the University of the Pacific, graduating with a B.A. in music and was part of the New York jazz scene in the late 1950s. About those days in New York he says, "I was good, but not that good," a self-assessment that returned him to California where he took a master's degree at the University of the Pacific and earned a teaching credential. He started teaching in Berkeley in the late 60s.
The introduction of jazz into the Berkeley school system was initiated by jazz enthusiast Herb Wong, principal of Washington School. He proposed that if jazz was introduced into the social studies curriculum it would, among other things, facilitate racial and social integration. In the late 1960s Herb Wong engaged Hardymon, along with pianist Dick Wittington, to teach at Washington School, where they slowly began introducing jazz into the school's music program. Hardymon developed and directed a broad jazz program within the Berkeley Unified School District from 1967 into the 1980s. At Longfellow School Hardymon formed the Longfellow Elementary School Band, a 30 piece group with fifth grader Peter Apfelbaum on the drums and fourth grader Rodney Franklin on keyboard. New materials were developed for teaching elementary school children, and Hardymon, already well regarded as a professional arranger, began writing charts and creating arrangements that ten year olds could perform.
The program culminated in Berkeley High where Hardymon inaugurated a jazz program and a band for students who had gained their basics in elementary and middle school. Under his leadership, the BHS Jazz Band won competitions, wide acclaim, and multiple invitations to the Monterey Jazz Festival. It remains one of the top-rated jazz bands in the country.
The impressive number of professional jazz musicians on the alumni list of BUSD Jazz is testimony to Phil Hardymon as an extraordinary man and educator : "None of us …would ever have gotten the support, as kids, that Phil gave us," says pianist Benny Green. Saxophonist Joshua Redman, among those exceptional talents that came under Hardymon's tutelage, says "his impact on my playing and my life is huge."
Contributed by Diana Kehlmann, 2015