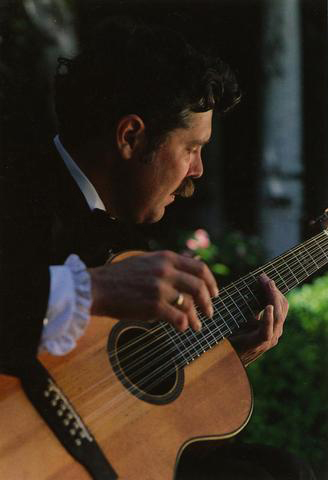 BERKELEY e-PLAQUE
Robbie Basho, Guitarist
(1940–1986)
Basho Residence:
1337 Shattuck Ave, Apt D
Guitar virtuoso, singer and musical innovator Robbie Basho was an orphan who was adopted in Baltimore, Maryland and named Daniel Robinson, Jr. In the '60's he made Berkeley his home and took the name Basho in honor of the 17th Century Japanese poet Matsuo Basho.
As a youth he sang in ensembles and played the euphonium in his high school band. While a pre-med student at the University of Maryland he became interested in folk music and the acoustic guitar. At UM, he met John Fahey, a philosophy and religion major, ED Denson who was studying physics and Max Ochs who knew Denson from a creative writing class. Fahey, Ochs and Basho became professional musicians. Denson, with Fahey, began the pioneer Indie Record label, Takoma Records.
Basho began performing traditional folk music in clubs and bars, but his musical interests quickly broadened. "Once I heard Ravi Shankar it was all over," he said. Grounded in western folk and finger picking, he began incorporating eastern modes and scales into long raga-like epic songs, creating a unique combination of Hindu ragas, western folk tunings, European classical techniques, and Japanese koto stylizations. He created his own "American raga" improvisational style playing the acoustic steel string guitar.
Basho's musical imagination, unorthodox picking techniques and unusual open tunings didn't attract a large following among the general public before his untimely death at age 45 when a chiropractic adjustment tore a blood vessel in his neck. It has since drawn the attention and admiration of other musicians. Among those influenced by him, sometimes called "children of Basho," are Glenn Jones, Rich Osborn, Kyle Fosburgh, Steffan Basho-Junghans and William Ackerman.
Basho recorded on the Takoma, Blue Thumb, Vanguard and Windham Hill labels.
Contributed by Tessaract3, 2013
Listen: Redwood Ramble, Robbie Basho, Stone City, Iowa (MP3)

Download