Viennese Playwright Arthur Schnitzler's Family in Berkeley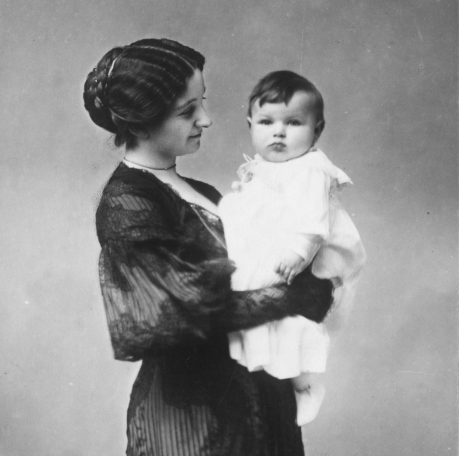 BERKELEY e-PLAQUE
Olga Schnitzler
(1882–1979)
Cambridge Apartments:
2500 Durant Ave.
Heinrich (Henry) Schnitzler
(1902–1982)
Schnitzler Residence (1941–1946):
42 Tunnel Rd.
Schnitzler Residence (1946–1948):
163 Stonewall Rd.
Olga Gussmann, a young Viennese drama student from a Jewish middle class family, confessed to feeling "a strange mixture of attraction and anxiety" when reading the works of Arthur Schnitzler, the famed doctor/playwright whose sexually charged works alarmed censors in Vienna and Berlin. When she was 18, she came to see him in his doctor's office and began a relationship with this multitalented friend of Sigmund Freud, Hugo Hofmannsthal, Rainer Maria Rilke, and other illustrious members of Vienna's intelligentsia. They had a son, Heinrich ("Henry") in 1902, and a year later she married Schnitzler, a man 20 years her senior.
Olga rebelled against being consigned to the role of wife and mother and wanted to become an actress. But Schnitzler, who had written a play based on his failed relationship with an actress who had had an affair while on a theatrical tour that took her away from Vienna, objected to Olga's pursuing such a career. He insisted she pursue singing in Vienna instead—a career for which she was not suited and at which she failed, despite having teachers such as Bruno Walter. The marriage ended in divorce in 1921. Throughout the marital turmoil and the later suicide of her daughter Lili, Olga was counseled and supported by her close friend Alma Mahler, another young woman who felt her freedom stifled in a marriage to the older Gustav Mahler. Olga's son Heinrich followed a career in theater, working in Berlin (1923–32) before returning to Vienna.
Arthur Schnitzler died in Vienna in 1931, but after the Nazi annexation of Austria in 1938, Olga and Henry fled Vienna and arrived in Berkeley via different routes. Henry, who had built a career as a stage director as well as an actor, first went to New York to seek work, but found his German a drawback to employment there. When he received an offer from UC Berkeley in 1941, he moved to Berkeley and became a founding member of the UC Dramatic Arts Department, where from 1942 to 1948 he staged contemporary plays, including those by Brecht and Ibsen. Henry and his wife Lilly, the daughter of a neighbor of the Schnitzlers in Vienna, had had a son, Peter, in Vienna. A second son, Michael, was born in 1944 in Berkeley at Alta Bates hospital, where Lilly worked as a nurse during their stay here. In 1948 Henry Schnitzler moved his family to Los Angeles to help found the UCLA theater department. In 1959 he and the rest of his family except for Peter, who chose to remain in the U.S., returned to Vienna, where he revived the plays of his father and other playwrights who the Nazis had deemed "Jewish decadents," emerging as one of Europe's major theater directors in the 60s.
Olga, who had saved Schnitzler's papers from destruction by having a graduate student smuggle them to Cambridge, first fled to England, where she oversaw the preservation and public availability of Schnitzler's papers. In the mid-40s she followed her son to Berkeley. Olga taught German at Mills College during the years immediately following the war and later lived in the Cambridge Apartments, a landmark building designed by Walter Ratcliff at the corner of Durant and Telegraph Avenues. Unlike earlier Viennese Jewish intellectuals who had converted to Christianity to further their careers, Olga converted to Catholicism in the 50s for reasons of faith. She moved to Lugano in 1966 and spent the last years of her life humbly teaching diction to priests.
Contributed by Robert Kehlmann with assistance from Margaret Schaefer, 2015