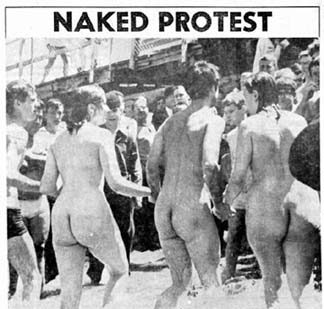 BERKELEY e-PLAQUE
Sexual Freedom League
Orgy sites:
2714 Telegraph Ave.
2545 Benvenue Ave.
In 1966, a time of provocative hippie behavior, Jefferson "Fuck" Poland (the courts refused his request to adopt the middle name) moved from New York to the Bay Area and established an East Bay chapter of his Sexual Freedom League. Media from the Berkeley Barb to Time Magazine portrayed the League as a part of the Sexual Revolution.
Poland quickly passed leadership to others and the League split into factions including the "Horny Men's Circle," the "Wanton Women's Circle" (a merger was proposed), and Berkeley's "Campus Sexual Freedom League." Playboy featured the campus group in its September, 1966 "Back to School" issue featuring co-ed centerfold Mara Suviks, who an insider later confessed never attended League parties.
UC Berkeley's student chapter registered as the "Campus Sexual Rights Forum." Members sold buttons reading "TAKE IT OFF" and "I'M WILLING IF YOU ARE," at Sproul Plaza while distributing information at the time not readily available to students on abortion, venereal disease, and contraception. The Forum staged nude sit-ins and held off-campus parties (orgies) at several different locations.
Berkeley police respected partygoers' freedoms, but in 1967 they raided a Telegraph Ave. orgy across from Willard Junior High and arrested the host for possession of marijuana and for serving alcohol to and contributing to the delinquency of minors.
The League's hey days were short lived. One participant estimated that between September 1966 and the Campus League's final 1967 Christmas Eve party, over 1,200 people attended their orgies. Alida Reyenga , the Berkeley chapter's final Coordinator, complained of working so hard that she had no time for sex. She quit and moved to LA to take up Scientology. Poland donated his archives to the Bancroft Library. Later in life he was convicted of a "lewd and lascivious act with a child" and placed on the State Sexual Offenders list.
Contributed by Robert Kehlmann, 2013