Sheldon Smith, Master Concert Piano Tuner and Rebuilder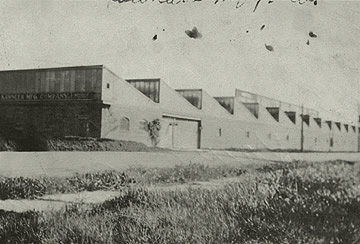 BERKELEY e-PLAQUE
Sheldon Smith, Master Concert Piano Tuner and Rebuilder
(1939–1999)
Workshop, Kawneer Manufacturing Co. Building:
2548 Eighth Street
Sheldon Smith was born and educated in San Luis Obispo. He was a jazz loving pianist who, after a stint in the navy, learned piano tuning. He operated piano rebuilding workshops in San Bruno and San Francisco until the mid-1970s when he settled into his West Berkeley workshop in the landmark Kawneer Manufacturing Co. building.
Smith became known among musicians both for his musical expertise, technical craftsmanship, perfectionism, and feistiness. He selectively worked on only those instruments he deemed the best, to the consternation of many who unsuccessfully sought his services.
Smith was the tuner and technician for concerts in Zellerbach and Hertz halls at UC Berkeley, the San Francisco Symphony, and Yoshi's in Oakland, as well as for many professional musicians. Pianist Peter Mintun said of Smith, "I came to realize that calling him a technician was not accurate. He was a piano maker and knew every single part of the instrument." Robin Sutherland, San Francisco Symphony's principal pianist, said that Smith "knew what he wanted, but also what it [the piano] wanted."
Linda McCormick, who learned the trade of tuning and rebuilding pianos in his workshop and later became Smith's wife and business partner, says that when working on an instrument his goal was to restore it to its original unique quality. She says he was also a skilled builder of furniture "that was beautiful and always perfect."
Smith's love of finely calibrated piano details extended to motor cycles and the Alfa Romeo and Morris Minor that sat in his driveway. His plan to build his own grand piano from scratch was never finished, though one of the pieces lives on as a sculptural ornament in McCormick's garden. Toward the end of his life Smith avidly supported Fix our Ferals, an organization devoted to spaying and neutering feral cats.
Contributed by Diana Kehlmann, 2013