Sidewalk Contractor Stamps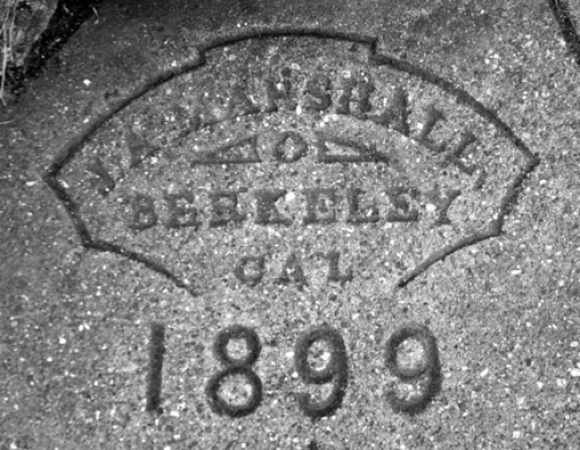 BERKELEY e-PLAQUE
One of Berkeley's Oldest Sidewalk Contractor Stamps
(1899)
1670 Dwight Way
On many Berkeley sidewalks one can find stamped icons and text designating the contractor name or union, the city in which the business was registered, and year the concrete was set. These are symbols of the pride that tradesmen and women displayed in building our country.
Some date back to the late 1800s, when sidewalks of stone, gravel and brick began to be replaced by the new material known as "artificial" or "art" stone. They are essentially advertising, some even including phone numbers and addresses. Used frequently from the early 1900s through the late 1960s, few are now installed because of fear of litigation and a changing attitude toward craftwork. One of the earliest Berkeley stamps, at 1670 Dwight (near McGee), dates from 1899.
Some stamps are very simple, others mimic the oblong shape of printing union "bugs," and a handful display elaborate artistic flourishes. Some stamps reflect the trades that represented the workers. Examples of the earliest union stamp can be seen in front of Virginia Bakery (1690 Shattuck) and at the former Freight and Salvage (1111 Addison Street), the distinctive crossed tools mark of the American Brotherhood of Cement Workers (1903–1913). Later union stamps were those of the Operative Plasterers' and Cement Finishers' International Association, whose distinctive label not only includes the Local number ("594" is the East Bay), but also proudly notes by number the actual Master finisher who completed that piece.
Although one might expect concrete stamps to last forever, they are constantly being lost due to urban redevelopment, curb cuts, root damage, and utility construction. Some cities have managed to preserve them by cutting them out and re-setting them in fresh work.
Contributed by Lincoln Cushing, 2012