Stephen T. Mather, Founding Director of the National Park Service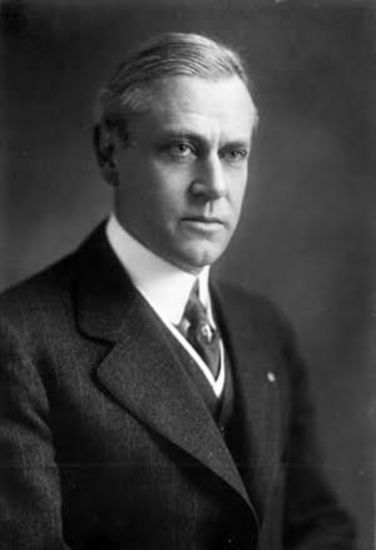 BERKELEY e-PLAQUE
Stephen T. Mather, Founding Director, National Park Service
(1867-1930)
Mather Grove, UC Botanical Gardens:
200 Centennial Dr
Born on Independence Day, 1867, and descended from one of the oldest American families, Stephen T. Mather would add the creation of the National Park Service to his family's many other achievements.  
Before his fifth birthday, Mather had made three coast-to-coast trips on the new transcontinental railroad.  Growing up in San Francisco, he often hiked then-rural East Bay hills.  In high school he explored Sierra foothills with friends.  He sold books from horseback in Mt. Shasta country during the summer of his sophomore year at the University of California, Berkeley.  These experiences gave him a deep love for America's landscapes, and his interest in conservation led him to become an early member of the Sierra Club.
After graduating from UC in 1887, Mather worked as a reporter on the New York Sun before joining his father in the borax business. Working for "Borax" Smith's advertising department, Mather suggested the "Twenty-Mule Team Borax" brand name. He left Smith's company to join his friend Thomas Thorkildsen in a new Borax venture, and they made millions. 
In 1914 the Mathers took a long vacation to several western national parks.  Without coordinated management, the parks were in terrible shape.  Mather wrote a letter detailing the problems to another UC grad, Franklin Lane, President Wilson's Secretary of the Interior.  Lane, looking for someone to run a parks bureau, answered, "Dear Steve, If you don't like the way the national parks are being run, come on down to Washington and run them yourself."  
Mather was no fan of government, but he went to see Lane, who introduced him to a potential assistant, young Horace Albright of Bishop, California.  After talking things over with Albright (also a UC alum), Mather accepted the job. 
A year-and-a-half later, on August 29, 1916, Albright rushed the Park Service bill to the White House for Wilson's signature; then telegraphed Mather: "Park Service bill signed nine o'clock last night.…."  
For the rest of his life, Stephen T. Mather, the first Director of the National Park Service, would organize and expand the system, and UC played a key role in his efforts.  His first conference of National Park Superintendents, in 1915, was held on the Berkeley campus; the group lodged in Mather-funded Sigma Chi House. Soon, National Park Service offices for Education were established in UC Berkeley's Hilgard Hall.  To honor this work, the University granted Mather an honorary degree on Charter Day in 1924.
When Mather died, memorial plaques were placed in selected national park sites. A few are located at places not in the national parks.  One of those sites is in Berkeley, at the Stephen T. Mather Memorial Grove in UC's Botanical Garden.
The Stephen T. Mather Papers are in the Bancroft Library at UC.
Contributed by Don Scott, 2017