West Berkeley Macaroni Factory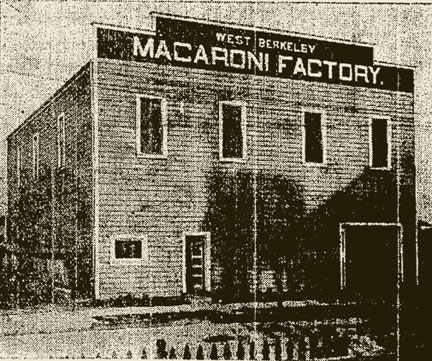 BERKELEY e-PLAQUE
CITY OF BERKELEY STRUCTURE OF MERIT
designated in 1991
West Berkeley Macaroni Factory
(1907)
2215 Fifth Street
This wood frame building was constructed by Simon Marengo behind his own residence on Fifth Street. It was one of many turn of the century family owned and operated shops and enterprises in West Berkeley. Marengo, a shrewd, stocky, meticulously dressed and groomed businessman, came to be known as the unofficial mayor of West Berkeley.
The factory was later acquired by Peter Costamanga, an in-law of Marengo's, and Giuseppe Bertolé, an immigrant Italian pasta maker. In 1914 Giovanni Coppa joined the firm, and the partners incorporated as the West Berkeley Macaroni Company. They continued producing a wide array of "fine" pastas for the large East Bay Italian population until the mid-1920s.
The utilitarian building subsequently underwent numerous alterations while inhabited by a series of different businesses. It is distinguished by a stepped false-front façade and large double hung windows. The original channel siding was replaced with unpainted wood shingles, and the building was later stuccoed.
Contributed by Berkeley Historical Plaque Project, 2002, 2012