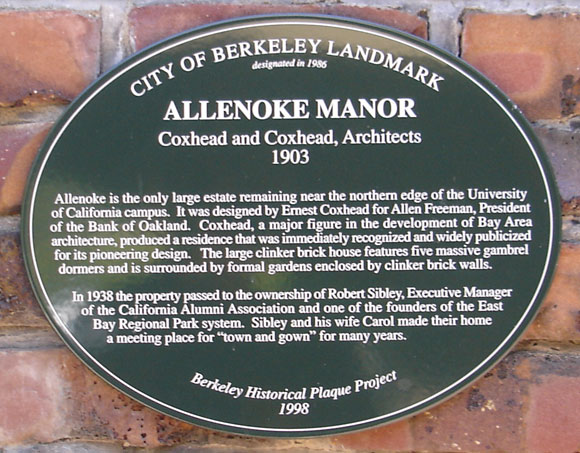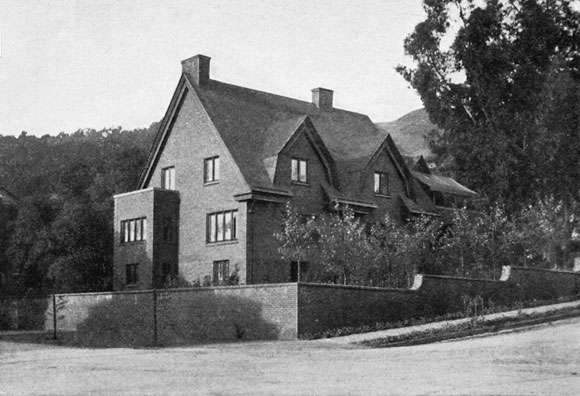 CITY OF BERKELEY LANDMARK
designated in 1986

ALLENOKE MANOR
Coxhead and Coxhead, Architects, 1903
Allenoke is the only large estate remaining near the northern edge of the University of California campus. It was designed by Ernest Coxhead for Allen Freeman, President of the Bank of Oakland.* Coxhead, a major figure in the development of Bay Area architecture, produced a residence that was immediately recognized and widely publicized for its pioneering design. The large clinker brick house features five massive gambrel dormers and is surrounded by formal gardens enclosed by clinker brick walls.
In 1938 the property passed to the ownership of Robert Sibley, Executive Manager of the California Alumni Association and one of the founders of the East Bay Regional Park system. Sibley and his wife Carol made their home a meeting place for "town and gown" for many years.
*correction: Freeman was a merchant. The owner of nearby "Weltevreden," Volney D. Moody, was the Bank of Oakland President.
Berkeley Historical Plaque Project
1998