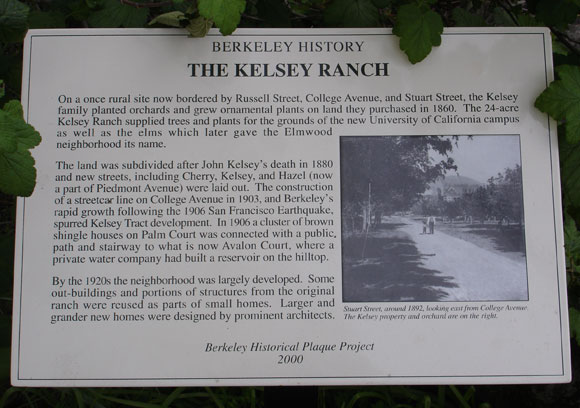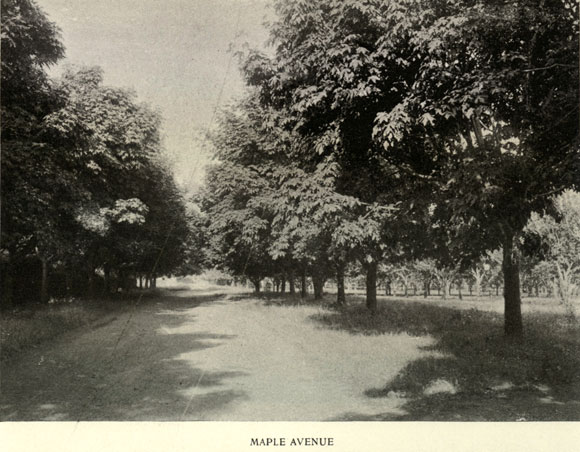 BERKELEY HISTORY
The Kelsey Ranch
On a once rural site now bordered by Russell Street, College Avenue, and Stuart Street, the Kelsey family planted orchards and grew ornamental plants on land they purchased in 1860. The 24-acre Kelsey Ranch supplied trees and plants for the grounds of the new University of California campus as well as the elms which later gave the Elmwood neighborhood its name.
The land was subdivided after John Kelsey's death in 1880 and new streets, including Cherry, Kelsey, and Hazel (now part of Piedmont Avenue) were laid out. The construction of a streetcar line on College Avenue in 1903, and Berkeley's rapid growth following the 1906 San Francisco Earthquake, spurred Kelsey Tract development. In 1906 a cluster of brown shingle houses on Palm Court was connected with a public path and stairway to what is now Avalon Court, where a private water company had built a reservoir on the hilltop.
By the 1920s the neighborhood was largely developed. Some out-buildings and portions of structures from the original ranch were reused as parts of small homes. Larger and grander new homes were designed by prominent architects.
Berkeley Historical Plaque Project
2000