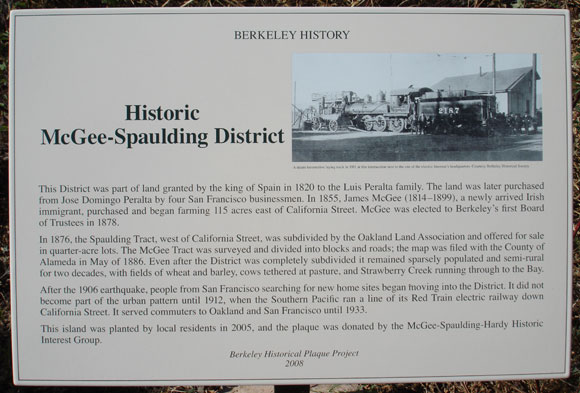 Historic McGee-Spaulding District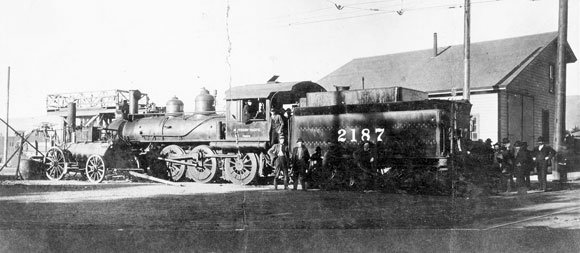 BERKELEY HISTORY
Historic McGee-Spaulding District
This District was part of land granted by the king of Spain in 1820 to the Luis Peralta family. The land was later purchased from Jose Domingo Peralta by four San Francisco businessmen. In 1855, James McGee (1814–1899), a newly arrived Irish immigrant, purchased and began farming 115 acres east of California Street. McGee was elected to Berkeley's first Board of Trustees in 1878.
In 1876, the Spaulding Tract, west of California Street, was subdivided by the Oakland Land Association and offered for sale in quarter-acre lots. The McGee Tract was surveyed and divided into blocks and roads; the map was filed with the County of Alameda in May of 1886. Even after the District was completely subdivided it remained sparsely populated and semi-rural for two decades, with fields of wheat and barley, cows tethered at pasture, and Strawberry Creek running through to the Bay.
After the 1906 earthquake, people from San Francisco searching for new home sites began moving into the District. It did not become part of the urban pattern until 1912, when the Southern Pacific ran a line of its Red Train electric railway down California Street. It served commuters to Oakland and San Francisco until 1933.
This island was planted by local residents in 2005, and the plaque was donated by the McGee-Spaulding-Hardy Historic Interest Group.
Berkeley Historical Plaque Project
2008