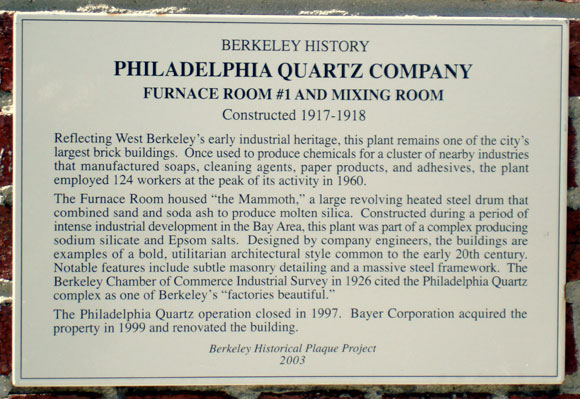 Philadelphia Quartz Company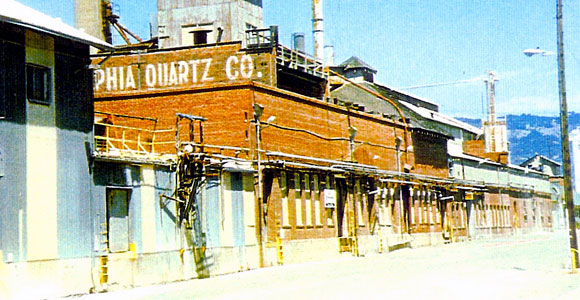 BERKELEY HISTORY
PHILADELPHIA QUARTZ COMPANY
FURNACE ROOM #1 AND MIXING ROOM
Constructed 1917–18
Reflecting West Berkeley's early industrial heritage, this plant remains one of the city's largest brick buildings. Once used to produce chemicals for a cluster of nearby industries that manufactured soaps, cleaning agents, paper products, and adhesives, the plant employed 124 workers at the peak of its activity in 1960.
The Furnace Room housed "the Mammoth," a large revolving heated steel drum that combined sand and soda ash to produce molten silica. Constructed during a period of intense industrial development in the Bay Area, this plant was part of a complex producing sodium silicate and Epsom salts. Designed by company engineers, the buildings are examples of a bold, utilitarian architectural style common to the early 20th century. Notable features include subtle masonry detailing and a massive steel framework. The Berkeley Chamber of Commerce Industrial Survey in 1926 cited the Philadelphia Quartz complex as one of Berkeley's "factories beautiful."
The Philadelphia Quartz operation closed in 1997. Bayer Corporation acquired the property in 1999 and renovated the building.
Berkeley Historical Plaque Project
2003