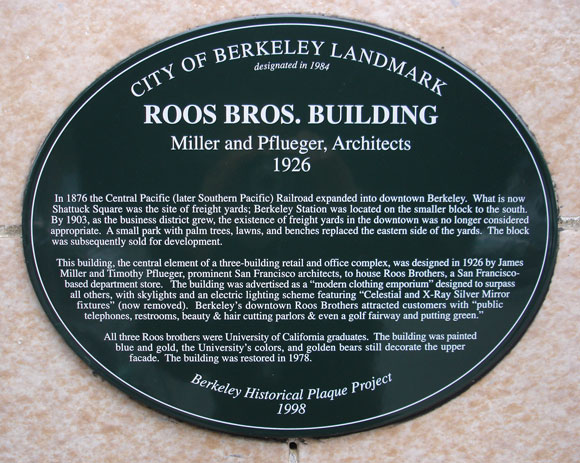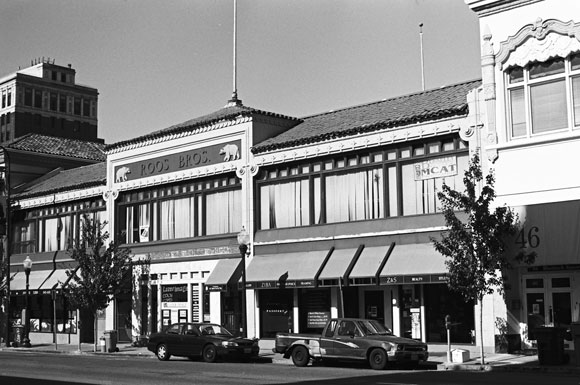 CITY OF BERKELEY LANDMARK
designated in 1984

ROOS BROS. BUILDING
Miller and Pflueger, Architects, 1926
In 1876 the Central Pacific (later Southern Pacific) Railroad expanded into downtown Berkeley. What is now Shattuck Square was the site of freight yards; Berkeley Station was located on the smaller block to the south. By 1903, as the business district grew, the existence of freight yards in the downtown was no longer considered appropriate. A small park with palm trees, lawns, and benches replaced the eastern side of the yards. The block was subsequently sold for development.
This building, the central element of a three-building retail and office complex, was designed in 1926 by James Miller and Timothy Pflueger, prominent San Francisco architects, to house Roos Brothers, a San Francisco-based department store. The building was advertised as a "modern clothing emporium" designed to surpass all others, with skylights and an electric lighting scheme featuring "Celestial and X-Ray Silver Mirror fixtures" (now removed). Berkeley's downtown Roos Brothers attracted customers with "public telephones, restrooms, beauty & hair cutting parlors & even a golf fairway and putting green."
All three Roos brothers were University of California graduates. The building was painted blue and gold, the University's colors, and golden bears still decorate the upper facade. The building was restored in 1978.
Berkeley Historical Plaque Project
1998