Make a Donation today!
Do you have a favorite landmark building or historic site that deserves a plaque?
You can sponsor one. Would you like to have a plaque placed in honor or memory of someone, with credit given on this website? Would you and your friends, your business, or your neighborhood group consider sponsoring a plaque? Let us know and perhaps your interest will lead to Berkeley having yet one more serendipitously placed plaque for others to discover.
The Berkeley Historical Plaque Project, a subsidiary of The Building Conservancy of Northern California, is a non-profit 501(C)3 organization. Project members work on a wholly voluntary basis. All funds collected go towards the fabrication and installation of plaques. Volunteers work in close consultation with the City, owners of landmarked buildings, neighborhood groups, the City's Landmarks Preservation Commission and other sponsors when researching and reviewing texts and determining plaque placement. Contributions are tax-deductible as allowed by law.
Sponsorship Levels
$750: Plaque Sponsor
$350 or more: Website Sponsor
$100 or more: Sponsoring Member
$50 or more: Friend of the Berkeley Historical Plaque Project
Send checks to: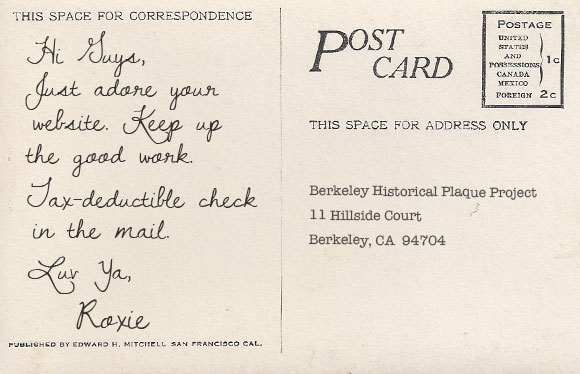 Make checks payable to:
Berkeley Historical Plaque Project
Mail to:
11 Hillside Court
Berkeley, CA 94704

 us! And please join our mailing list to receive periodic website updates and other Plaque Project information.