Berkeley Downtown Area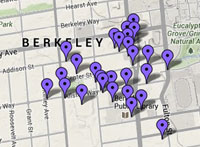 Berkeley's developers during the mid- to late nineteenth century, whose names are known by principal streets in the city (Shattuck Avenue, Kittredge Street, Blake Street, Hillegass Avenue) brought railroad lines to the farmlands at the foot of the Berkeley Hills. They built commercial buildings and established the first banks and financial institutions. Today's Shattuck Square and Berkeley Square blocks were once rail freight yards and storage spaces for a Central Pacific train station. Today's unusual wide arterial split by the triangular row of commercial buildings from Center Street to University Avenue was dictated by these earlier elements.
Dense development along the rail line contrasts with the moderate level of construction along University Avenue which was served by horse-drawn carts until automobiles and electrified streetcars became the general means of transportation.
"Center Street looking toward University of California," postcard (ca. 1920), Sarah Wikander collection.
The Downtown buildings constructed during the rapid growth periods following the 1906 San Andreas Earthquake and Fire in San Francisco, and after World War I, were inspired by the City Beautiful Movement. Many were designed by prominent architects. Berkeley's Downtown remains well preserved and largely intact, despite underground construction of the BART system between 1968 and 1971. Demolitions of significant commercial buildings helped stimulate Twentieth Century citizens' movements for preservation of Berkeley's architectural heritage. These movements remain forceful today.
Celebrating Berkeley's 50th Anniversary, postcard (1916), Sarah Wikander collection.
The Downtown Area's Civic Center Historic District was added to the National Register of Historic Places in 1998. Eight of the surrounding buildings are City of Berkeley Landmarks. The park itself, including the fountain and plaza, was designed in a symmetrical plan with paved pathways and benches. This design (1938 to 1942) is attributed to architects Henry Gutterson, Bernard Maybeck, Julia Morgan, and landscape architect John Gregg. It too has been designated a City landmark.
More Information:
Downtown Landmarks
Civic Center Landmarks
Berkeley draft EIR, Downtown
Downtown Area Plaques