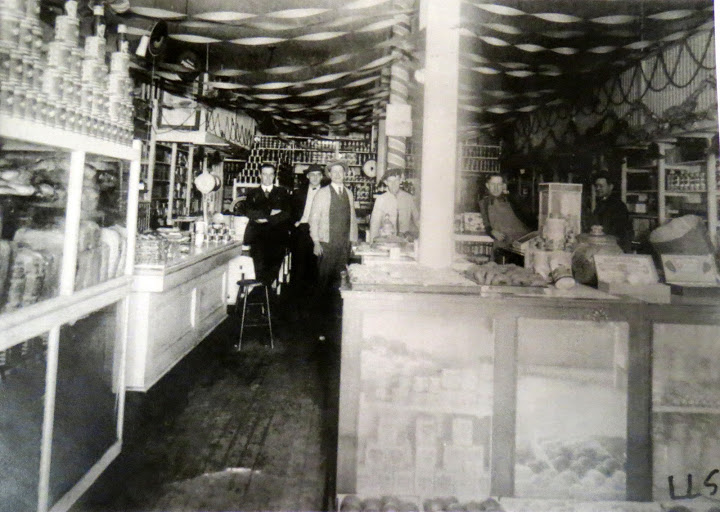 BERKELEY e-PLAQUE
Berkeley Grocery/H. Jacobs Grocery
(1895–1961)
2476 Telegraph Ave.
A grocery store once stood on the site of legendary Moe's Bookstore. Constructed in the 1890s, the Berkeley Grocery and the apartments above the store were owned and operated by members of the same family for just over 65 years. They sold the building in 1961to Moe Moskowitz, who later tore it down.
A 1910 photograph shows an interior decorated with Christmas balls and swags of spruce above walls packed with canned goods. The young man standing at the left front is David M. Jacobs, brother-in-law of Julius Salzberger, the man who built and owned the grocery and other buildings on the block in the 1890s. One of David M. Jacobs' sons, David Earl Jacobs, known as "Uncle Earl," remembers marking prices on cans with a grease pencil when he was 10 or 11. During World War II, he explains that foods were rationed: "Meat, oil, butter, mayo required a certain number of red points. Canned foods, sugar cost blue points. Everyone had a red and blue ration book that held stamps with values on each stamp." Since they were in short supply, "Cigs" were only sold to known customers.
David M. Jacobs was a highly competitive man who loudly objected when family members purchased items at the Rose Grocery around the corner from their residence. A large part of his grocery's business consisted of deliveries to people who Uncle Earl called "Hoytee Toytee" types: customers living in the Berkeley hills. Next door to the grocery (prior to the opening of the Éclair Bakery) there was a morgue, which at times enlisted grocery clerks to serve on the coroner's jury.
Contributed by David Jacobs, 2014