David Dodge Boyden, Musicologist and Violinist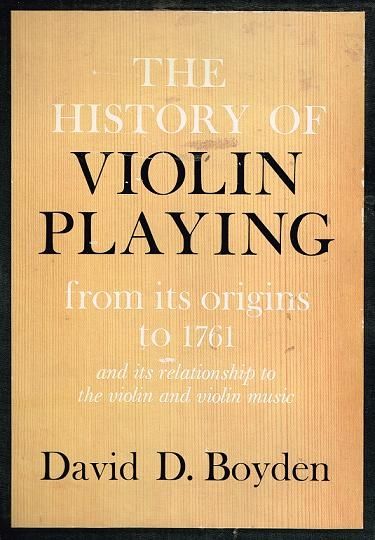 BERKELEY e-PLAQUE
David Dodge Boyden, Musicologist and Violinist
(1910–1986)
Boyden residence::
1208 Shattuck Avenue
"His many friends and colleagues will remember his sense of fun, his lovely laugh, his attractive boyishness, never quite outgrown, and his pleasure at accomplishment." UC music department colleagues.
In 1965, Oxford University Press published "The History of Violin Playing" by David D. Boyden which soon became "the bible" on string instruments and performance practices for generations of string players. The book is both a history of the violin's evolution and a performance guide that has had a continuing readership and significant impact on professional string players and amateurs alike.
Rather than working with texts, Boyden did the major research for his book on violins and bows themselves, an unusual form of scholarship in his time. He wanted to hear the sounds of early instruments in relation to the music scores written for them. While he was Fulbright professor at Oxford he studied the instruments, heard them in performance, and published a Catalogue of the Hill Collection of Musical Instruments in the Ashmolean Museum.
Boyden was educated at Harvard University and Columbia University's Hartt School of Music. He joined the faculty at the University of California, Berkeley in 1939 and retired in 1975 as full professor with an honorary Ph.D. from the Hartt School of Music. As chairman of UC Berkeley's Music Department during the post-war period (1955-1961), Boyden was credited by his colleagues with playing a major role in developing the department. He supervised its move into both Morrison and Hertz Halls and was instrumental in acquiring the Salz collection of rare violins. Boyden built up the musicology department by making significant appointments promoting ethnomusicology, composition, and performance studies.
Boyden was a highly respected scholar. He published 76 articles for the New Grove Dictionary of Music and many reviews and articles in major music journals, some with provocative titles such as "When is a Concerto Not a Concerto." One of his articles focused on a missing manuscript of the great violinist and music theorist of the Baroque, Giuseppe Tartini, best known by his "Devil's Trill Sonata," which, according to legend, was dictated to him in a dream by Lucifer himself.
David Boyden died on September 18, 1986 after a long struggle with Parkinson's disease.
Contributed by Diana Kehlmann, 2016