Eknath Easwaran, Meditation Teacher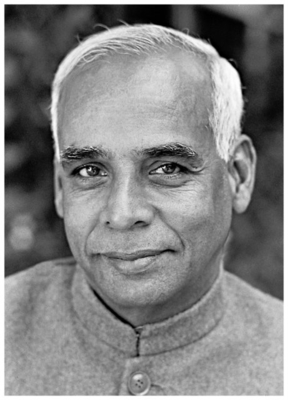 BERKELEY e-PLAQUE
Eknath Easwaran- Meditation Teacher and Writer
(1910 -1999)
Blue Mountain Center of Meditation:
1333 Walnut Street
Eknath Easwaran (pronounced: Ish-war-an) was born in Kerala, India. The family name, Eknath, came to him through the matrilineal descent of his mother. His grandmother named him Easwaran, "he who rules from within." Throughout his life he considered her, an uneducated village woman, his spiritual teacher and a guiding example of how a person can live an outwardly ordinary life, yet still be filled with deep spiritual devotion and understanding.
He left his village at 16 to study at a small Catholic college and went on to do graduate work at the University of Nagpur, where he later became Chair of the Department of English. Despite an enjoyably full personal life and an active career writing and teaching, he became increasingly restless and unsatisfied. He considered becoming a sadhu, a Hindu holy man, but his grandmother's example persuaded him that he could commit himself to a spiritual discipline while fully functioning in the midst of a modern life. Following her way, he integrated spiritual practice into the daily flow of his busy life.
Easwaran came to the United States as a Fulbright scholar in 1959 and was here at a time of increasing unrest on the UC campus and elsewhere. Having been deeply influenced by Gandhi, he was by no means opposed to challenging cultural norms and state authority, but he believed deep lasting change can only be achieved by going inward, facing "what is selfish and separate within ourselves."
On a Monday evening in January 1968, in Room 2000 of UC Berkeley's Life Sciences Building, an event took place that was almost surely a first at a public university here or anywhere. Four units of credit were being offered for a Religious Studies course entitled The Theory and Practice of Meditation. Required readings were Patanjali's Yoga Sutras, The Upanishads, The Bhagavad Gita, supplemented by the practice of a half hour meditation daily. Instructor: Eknath Easwaran.
He also began to give talks and instruction throughout the Bay Area, introducing a pragmatic eight-point program of Passage Meditation, which includes meditation on a focused repetition of inspirational passages from various spiritual texts from all the world's religions. During the years 1967-68 he taught at 2200 Parker Street, currently the Empty Gate Zen Center.
In 1961, he and his wife, Christine, founded the Blue Mountain Center of Meditation on Walnut Street in Berkeley,which later moved to Tomales, California, where it continues to share Easwaran's method of meditation.
Contributed by Diana Kehlmann, 2015
More information:
"Tim & Carol Flinders", "The Making of a Teacher", "Conversations with Eknath Easwaran (also Easwaran-on-audio.html)."