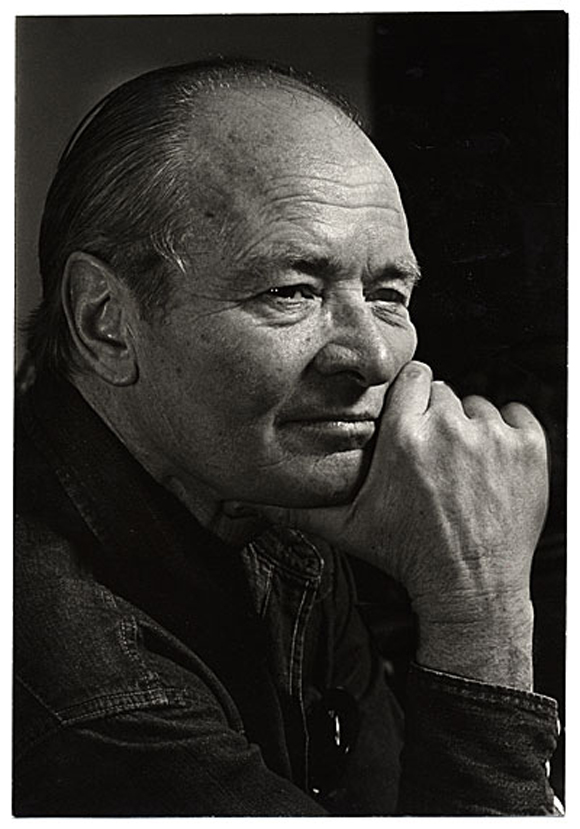 BERKELEY e-PLAQUE
Elmer Bischoff, Artist
(1916–1991)
Bischoff Early Residence:
2717 Russell Street,
Bischoff Later Residence:
109 Strathmoor Drive (destroyed)
Elmer Bischoff was a leading figure among the first generation of post-World War II Bay Area artists who introduced figuration into modern painting.  At a time when abstract painting was in vogue and Clifford Still, who taught at the California School of Fine Arts (San Francisco Art Institute), dominated contemporary West Coast painting, Bischoff, together with fellow artists David Park and Richard Diebenkorn emerged as pivotal figures in what would later be known as the Bay Area Figurative Movement.
Elmer was born in Alta Bates Hospital and spent most of his childhood years in a Russell Street house his father, John A. Bischoff, designed and built in 1919. His father also built a large portion of the commercial block on the east side of College Avenue between Russell Street and Ashby Avenue.
After earning his Bachelor's and Master's degrees at UC Berkeley and serving in the Air Force, in 1946 he joined the faculty of the California School of Fine Arts. There he developed a close friendship with fellow faculty members David Park and Richard Diebenkorn and his style began changing. All three artists were living and working in Berkeley in 1957 when "Contemporary Figurative," a painting exhibition at the Oakland Museum, attracted national attention. Their break-away style, combining abstraction with figuration, captured the California landscape, domestic narratives, and scenes of west coast jazz.
From 1965 until his death, Bischoff lived on Strathmoor Drive in the Berkeley hills. He was an avid motorcyclist who often rode through the surrounding areas seeking inspiration. He, Diebenkorn, and Park shared models and studio space in Berkeley. In the early 1960s Bischoff joined the UC faculty where he taught for over 20 years.  His work is represented in major public and private collections worldwide.
Contributed by Diana Kehlmann, 2012
Note: This text was drafted in consultation with Burl Willes and is based on his book, "Tales from the Elmwood: A Community Memory," Berkeley Historical Society (2000).